When you have motor functions in hands and fingers like the Berlin wall you automatically keep everything tidy, otherwise you will drown into chaos.
My wheelchair rucksack contains more or less everything what you need to survive in the wild.
For me it takes some effort to take down the rucksack from the back of my wheelchair and rummage around into it to search for something which somebody has stuffed in there.
Probably scientists never have thought about:
Where on a rucksack is front and back?
This question should be clarified once and for all.
I have learnt once that on a car the front is always in driving direction when you are sitting inside.
Driving backwards doesn't count.
Can I apply this to my wheelchair rucksack as well?
The wheelchair transport drivers always have asked me in which pocket of my rucksack was the card to debit the transport charges?
I would have liked to know it myself… Each time in a different place.
Is the small pocket on the front or the back of the rucksack?
This depends probably from the viewer's perspective.
For me sitting in the wheelchair it is on the back, for some of the drivers it is on the front, or not???
A solution had to be found. At a visit of the regional broadcasting station I had bought
The "Maus"
(translator's note: the mouse, popular German children TV character) and fixed it on one pocket of my rucksack.
From this day it only went:
With the mouse!
In the mouse pocket!
In the mouse trap!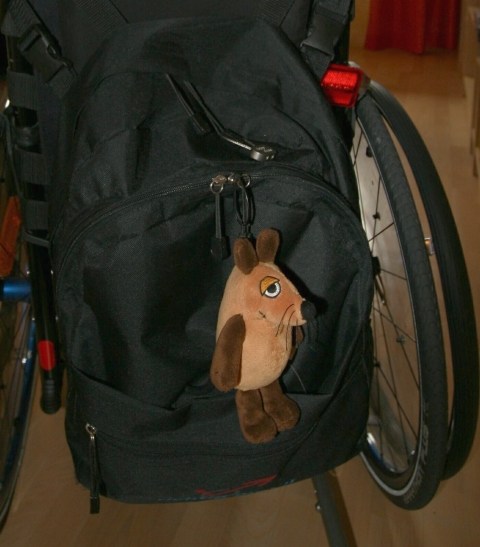 Basically the result was quite good.
But now more or less everything is stuffed into the mouse pocket, so that there is a big mess now inside.
Will I have to switch to Walt Disney now and fix a whole toy armada to my rucksack to find the remote control for my stairlift?!
Donations of small accessories with key ring to mark the other pockets will be gladly accepted.
Wheelchair rucksack cuddly toys donation account
Some time I will confuse the drivers totally and fix the "Blue Elephant" (companion of the "Maus") on my rucksack

Translator BL
Tags: Technical Aids, Maus (Mouse), Wheelchair, Wheelchair Bag