Wheelchair users and their bathroom equipment is an endless subject!
The mounting height of the bath mirror can lead to the move-out of the partner if no agreement is found.
To avoid these discussions, usually cost-efficient (ho, ho, ho)
movable mirrors
are recommended. How are you supposed to see anything without binoculars in such a thing when it is skillfully mounted under the ceiling, and who moves it if needed?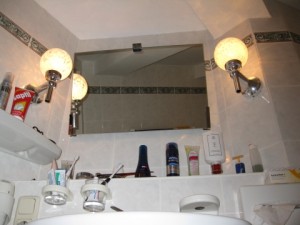 My tip is a, mounted to hobbit size, a telescopic round
Make-up Mirror
made by the
Swedish meatballers.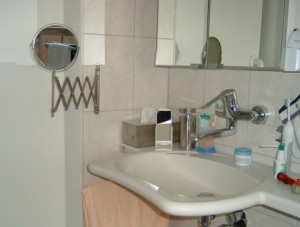 Model: FRÄCK 5,99€
The mirror of my wall cupboard is with its height just suitable for eyebrow shaping.
Now I can finally see if my nurse is botching with the shaving.

Translator BL
Hier geht's,…ääh..fährt man zur

Tags: Bathroom, Technical Aids, Ikea, Shave, Mirror, Tips and Tricks, Home