Paper chase in district court
Yesterday I had some business at the district court in my hometown Frankfurt. Public buildings should by now be all accessible, but I had to go to building A, an old venerable building from 1889. At that time there wasn't much concern about accessibility…

Quelle: wvs-ffm.de
So I called in advance and got the information that in order to avoid steps I had to enter though building E to get to building A. First, at security control I had to hand over my set of wrenches, one that every experienced wheelchair driver always has on board. Perhaps I could kill someone or gouge out someone's eyes?!?

Quelle: Hornbach
So off to building E, into the elevator, up to the 1. floor. Then through the dusty hallways, follow the signs "transition to building A" – almost like in a scavenger hunt! At some point I stood in front of this ramp… positive thought first: there is a ramp, yay! However, it is significantly steeper than the specified 6% according to DIN180 40-1… and also a little steeper than the training course at rehab. Although, I know some wheelies, that would have a blast down this "Rolli slide"!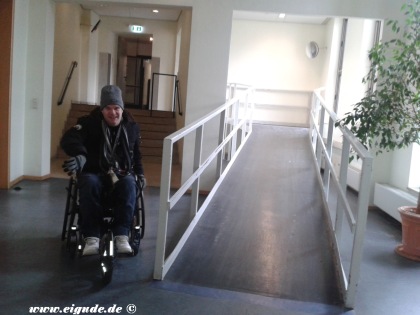 Then continue the search for the next elevator, back down to the ground floor. Then find the right room… fortunately it was the last door before the next steps.
Somehow we found our way back, but not before landing in a cul-de-sac first ……
Next time I'll scatter breadcrumbs!!!
Translator BL