At this stage I would like to ask all pedestrians NOT to park even only short-time on disabled parking places.
You get a disabled parking permit only when an exceptional walking disability is entered in the handicapped ID. We exceptionally disabled can't walk anymore at all or very bad and thus are reliant on short ways.
Except for the old and frail people it could also be somebody out of the around 100.000 people in Germany who have the neurologic disease MS (Multiple Sclerosis) and are still able to walk a little bit. This disease can hit anybody.
Then there is also the fraction of para- and quadriplegics like me. I had a car accident through no fault of my own.
We para- and quadriplegics almost all can only get in and out of the car when the driver's or front passenger's door is opened completely.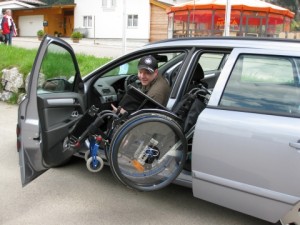 This is the reason why disabled parking places are that big.
I totally understand that such a parking place with its wide is quite appealing when you drive with your SUV which is an absolute must in Frankfurt to the groceries.
Please imagine the following situation:
I am driving with the car to the post office at the train station. When the two disabled parking places are occupied it's tough luck.
It absolutely doesn't matter if somebody is parking 5 minutes
or 3 days on a disabled parking place.
I don't see if there is a disabled parking permit displayed in those two cars and if the drivers might be gone by train to Munich, or if they will walk out of the post office in 5 minutes.
Thus there is nothing left for me except looking for a normal parking place.
I might find one eventually which is wide enough, another car is parking next to mine.
So far so good.
I am coming back to my car, but in the meantime the car next to mine has changed.
It is now parking 5 cm closer to my car, and I can't open the driver's door completely any more.
So much for that!!!
If it would be my "way" I already had abolished all disabled parking places on supermarket parking lots, then I wouldn't get upset that often any more.
On those parking lots everybody can park as he likes. It is private property, and Mr. Aldi or Lidl are not interested who is parking there.
Address the people and explain it to them. Shouting unfortunately doesn't help.
Click on tag Handicap Parking, to read more or less odd handicap parking stories .
Translator BL