Although I can't open a yoghurt cup any more with my fingers, I can still smash it up!!!

In this
clamp
you can put cutlery.
This makes it possible, even without finger function, to eat independently with spoon and fork again.
Enjoy your meal!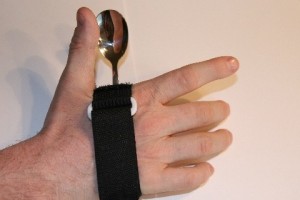 The cutlery holder is available at medical supply shops, but can also be self-made rather easily. It can be individually adjusted with velcro tape.
Translator BL
Tags: Food, Grip, Technical Aids, Kitchen, Quadriplegic Tips