The new bathroom was planned so that an accessible, on grade shower basin should be embedded on the window side.
A size of 120 cm x 120 cm is standard (top left).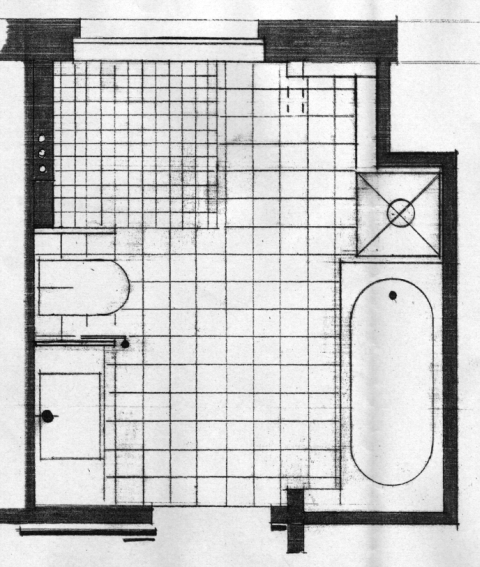 Due to the wall breakthrough a new bathtub could be set on the right side, virtually in the home office. Then a little bit washing basin, connection for the washing machine, disabled toilet, and the bathroom was actually almost done.
OK, a new wall had to be built on the right, plaster, some tiles, colour and a sliding door were necessary due to the broadening of the door case.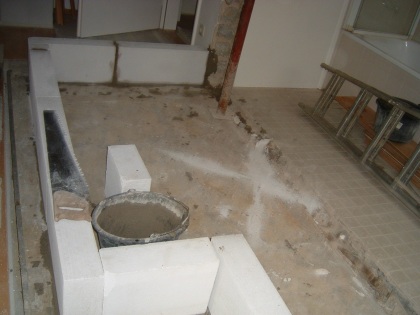 Sounds rather simple, so let's take a start!
In TV shows accessible bathrooms are built in 45 minutes broadcasting time…
It's not "going" that fast!
Usually bathrooms suitable for disabled are on the ground floor, which basically makes sense because stairs are natural obstacles for us wheelchair users.
Additionally the siphon of the accessible shower can be banished with a breakthrough to the basement ceiling, where nobody would bother except for a couple of rats.
In the first floor the shower drain thing is a bit more difficult.
I don't have any more problems, but there it was, the challenge!
Because I have neighbours living underneath, a colourful siphon on their bathroom ceiling was out of question.
Even with the most even drain you need at least
12 cm casing depth for the on grade shower basin.
The concrete underlay was removed until the bottom plate. My bathroom floor didn't give more than 8 cm depth for the installation of the shower basin.
The floor had to be lifted, but then it wouldn't be on the same level as the corridor any more.
What now:
A stair at the door to enter the "accessible bathroom" was a serious suggestion, but not for me.
To pump the waste water upwards because of the missing 4 cm I thought would be too complex.
In the end my new bathroom floor is sloping!
The floor slightly ascends by 4 cm from door to shower which has the funny effect that I am rolling away with my wheelchair in my own bathroom.
A pedestrian doesn't note the difference.
As long as I don't splatter too much with the water while showering it won't run into the corridor!
I should have explicitly mention that to my friend who stayed overnight before he went into the bathroom.

To be continued!
Click on tag "Bath Reconstruction" to read the other blogposts of the series.
Translator BL
Tags: Bathroom, Bath Reconstruction, Technical Aids, Tips and Tricks, Home