My suspicion is that construction engineers compress their planning to the most confined space not because building sites are so expensive, but only for that reason because they would otherwise need to print another piece of paper!
Everybody knows it, when you are writing a letter on the PC and the text doesn't fit onto one page, you also try with smaller line spacing and font to squeeze everything onto one page.
In a building in the neighbourhood a new emergency stair case with new entrance area was built in the record-breaking time of two years.
They have taken much effort that the residents of the neighbouring houses will still remember the reconstructions years later.
I was positively surprised that on the side of the entrance a small
Outside lift for wheelchairs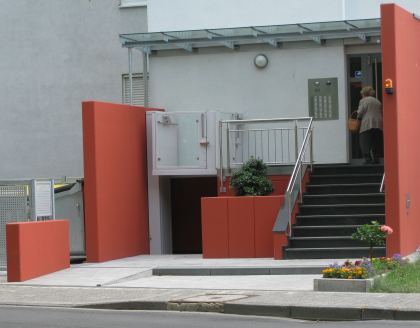 was built. Great thing because in this building there are living also many old and frail people who may need a wheelchair in a couple of years.
We generously overlook the stair on the left with which the waste disposal is made a little difficult for us "travelling people".
I am actually not concerned any more, but how can you construct such an extremely
Steep Stairway.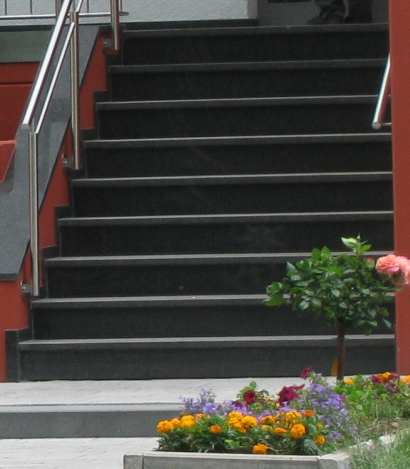 The stairs are very high and consist even out of polished granite. The lady on the picture had greatest difficulties to climb the entrance with her walking stick. There would have been more than enough space to front for the stairway construction, but as mentioned probably the paper was too small. The guy who is responsible for the construction of this stairway should be accused for attempted injury.
After the next winter the fresh wheelers due to a downfall from the stairs will probably queue in front of the outside lift!!
Translator BL
Tags: Lift, Frankfurt, Technical Aids, Hoist/ Lifter, Neighbour, Stairway