During my hospital detention due to my shinbone fracture my wheelchair including me has lost almost 10 kg of weight. Maybe due to the food, or did I idle around fasting too much???
Usually I can eat what I want, the wheelchair is getting heavier and heavier,… now suddenly lighter and lighter…

Too bad that my body has not only used up the redundant fat tissue which I basically don't mind, but also plenty of my painfully worked out muscles.
October had good weather and November was the driest of all times…, but that doesn't help if you are lying with a splint and outstretched leg, with the overall appearance of a Russian tank, only driving from sleeping room passing kitchen and bathroom to the office and back. In exceptional cases a short break was taken in the dining room.
Now adding some Christmas cookies, and the wheelchair will be more heavy than ever.
To counteract the muscle wasting an individual
Despite-orthosis-indoor-training-program

was developed. On my
leg exercise machine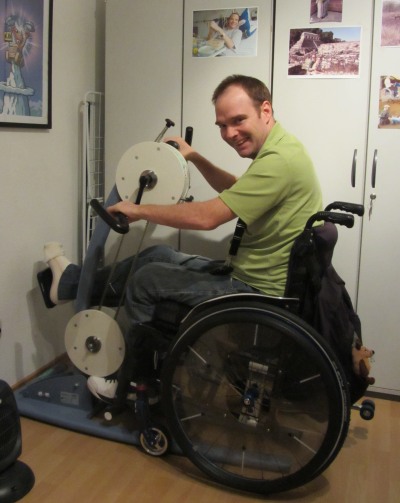 the foot rests were demounted so that it can be used as arm exercise machine in spite of the leg orthosis on the right.
The familiar
Swing stick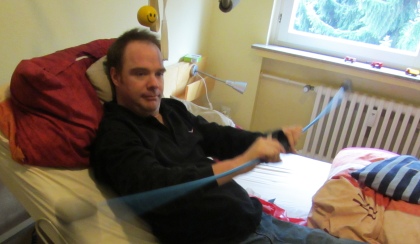 wears everyone down in the long run. ( note the yellow ball).
The daily exercise with the
Thera-band in bed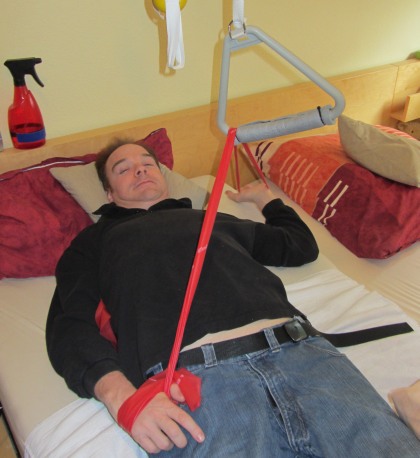 should according to experience and due to safety reasons not be done without protective glasses.
More exercises with the Thera-band, "Fit in Wheelchair": Join in!!!
Translator BL
Tags: Technical Aids, Physio Therapy, Sport, Tips and Tricks