There are various reasons for somebody to make himself comfortable in a wheelchair. I won't go into any more detail concerning this point. With a little practice you can guess what has happened to this guy who crosses your way twenty meters before you're close to him.
I would like to mention at this point that most of us just aren't able to walk or to walk anymore, and apart from that the neuronal networking is at least at the same level with the average population.
It is not necessary to reject anybody who isn`t able to walk anymore and send him into retirement. There are too little jobs for wheelers!!
On TV you sometimes see actors doing pleasure rides in a wheelchair. An affected person would never take a seat in such a crap chair. A real wheeler brings his own requisite.
At advertising shots for technical aids like wheelchairs, handcycles, wheelchair accessories and special clothing I demand a few jobs for us. Indeed due to the paralysis the belly gets a little bigger, but with Photoshop you can retouch this without any problems.

Recently a glossy promotional sheet for wheeler clothing fluttered into my mailbox.
That's not bad though so you always keep up to date what is hip regarding clothing, colours and accessoires during the next wheelchair season.
The supposed "colleague" has a top handcycle with motor support harnessed to his wheelchair. This is even a special type of handcycle for a quadriplegic like me, who barely can or are completely disabled to grasp. When driving the hands are fixed and you change gears with your chin.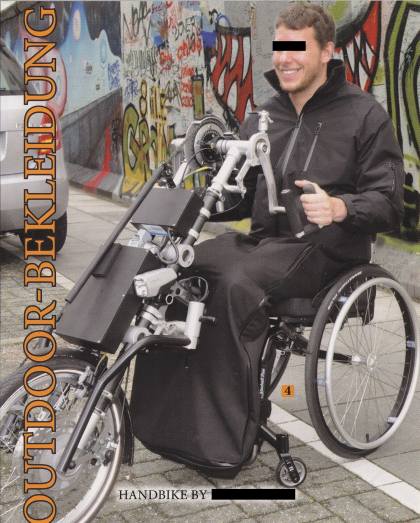 At least the model, probably a pedestrian or a paraplegic who has never seen a handcycle before, should have had to be told how to grasp the handles.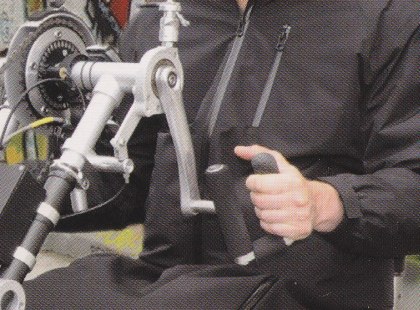 Does that always have to attract my attention only?
There they are, our jobs…!!!
Hands in handles should look roughly like this, look at my picture: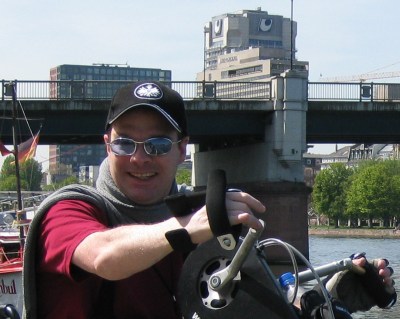 I don't look too bad for a model, do I? OK, the belly is cut off

Translator Teo