Readers who are following my blog know that I was travelling to Tenerife in February for the sole reason to test extensively the modifications and offroad suitability of my Minitric with its new
Tractor Tyre Traction Technology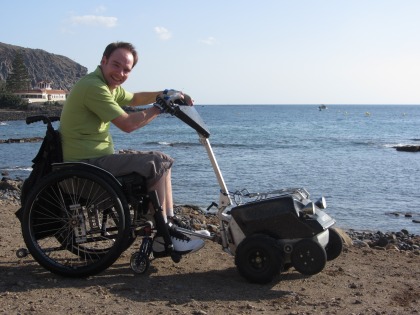 Exactly one year ago I had purchased the Minitrac over there so that it was running in its home stomping ground again for 12 days.
The Minitrac never showed any difficulties with the hilly landscape of the volcano island yet.
Solid ground, also with stones to a reasonable extent, is manageable quite well for the Minitrac with its special tyres so that hiking trails in the alps should not be too big challenges either.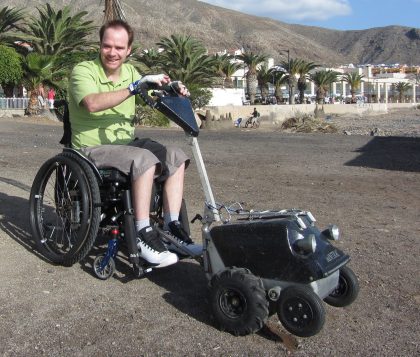 (Fake!)
With its two new batteries of each 12 V /52 AH you don't have to worry about distances of easily 25 km.
Rides on the soft sand beach are not possible, the Trac is too heavy, the wheels would spin.
If you urgently need a full-body exfoliation I recommend to drive with the Trac into the sand of a nudist beach and apply full throttle, the flinging sand will do the rest

The special feature from Swisstrac and Minitrac is that you can move up and down curbs which is still possible with tractor tyres.
Because of the new tyres, the rather friendly-appearing Trac suddenly has got a rather grim appearance which has the additional positive effect that each pedestrian looks a bit puzzled and immediately takes a safety distance in order not to be overrun by my rolling offroad power box.
A cross design on the instep of the foot doesn't seem to be currently in fashion.
Of course the Minitrac was tested in civilization as well. Due to the rather big turning circle shopping in supermarkets and department stores is a bit inconvenient. The rear exit of the supermarket uncommonly has an 8 meter long tiled ramp with 20° gradient which of course I had to test. Also this ramp could be managed without human push from behind the wheelchair.
A great camouflage, in this row of children's fun rides I don't really stand out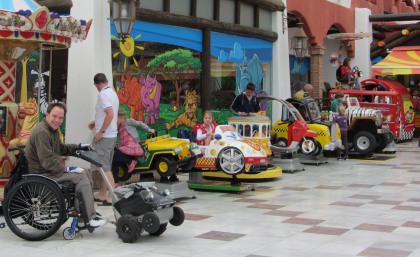 In a special area of the beach promenade almost all of the floor tiles were broken so that I was glad that I had also equipped my wheelchair with mountainbike tyres for the test week.
The Minitrac has passed the tests with flying colours, and additional planned modifications can be realized. Firstly the headlights which were damaged on the return flight will be replaced.
I will still report about the battle Minitrac vs. Powergolfer in Tenerife!!!
Translator BL
Tags: Technical Aids, Kanaren / Mittelmeer, Minitrac, Tenerife, Holiday