What is an absolute "must" just before Christmas?
Of course a visit to the premises of the nearest post office. Because a queue down to the street needs to be anticipated winter clothing is advisable. It was unbelievable, but after a bit of honking even the second handicapped parking space was free and I had the pole position, see Opel Astra on the left.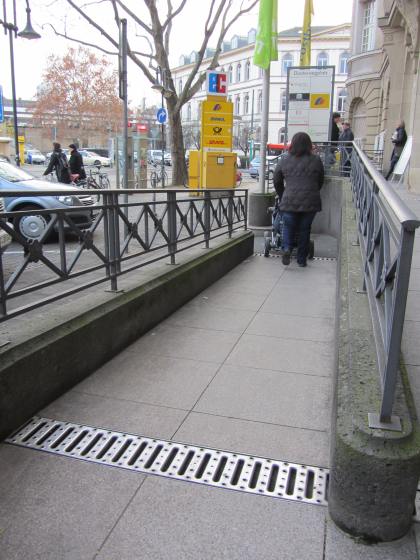 I even was a bit disappointed, no queue in the cold, and I was so heavily dressed…!!!
After 20 minutes I was outside again, ran over nobody's feet and didn't exchange any business cards, that was quicker than in the summer!!!
It would have been almost a perfect mail collection day if they didn't have had this stoned construction engineer who designed the ramp without barriers, but not without joints (in the meaning of gaps). This drip moulding has a great design

It is quite special if you get stuck in a gully hole on a
stroller-and-wheelchair ramp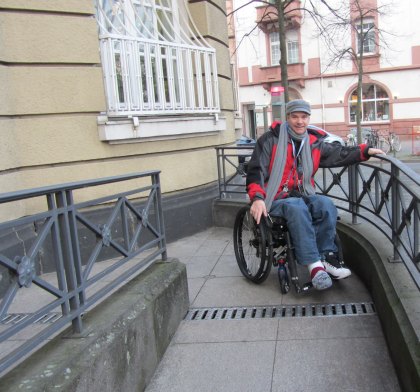 and hence break your second leg.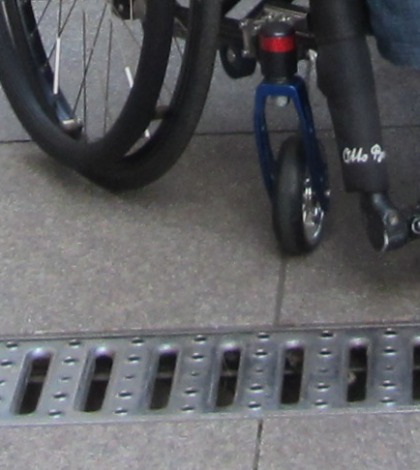 Do I have to present a petition for "jointless drip mouldings on wheelchair ramps" to the German Bundestag (parliament)???
Translator BL