Wie HOW DO I (WITHOUT FINGER FUNCTION) PREVENT MY SMART PHONE FROM FALLING DOWN?
I never go anywhere without my smart phone, not even in my own apartment.
What could really happen there?
t happened a few years ago in my office that I rolled over a 220 Volt extension cord and got caught in it. The cable got wrapped around the wheels and I could not move forth or back. I was only a few centimeters away from both my phones, mobile and landline. I felt like a ship that ran aground! It took me about 2 hours to free myself. Waiting for the "flood" might have helped I.
Since I am not able to pick up a phone from the floor I should certainly avoid letting it fall.
When sitting in my wheelchair I always have a smart phone on a key chain around my neck. A few times I did have to dial 911.
We punched two holes in the cell phone case, one to attach the key chain and the other one to insert my index finger for support because I cannot entirely hold the phone on my own.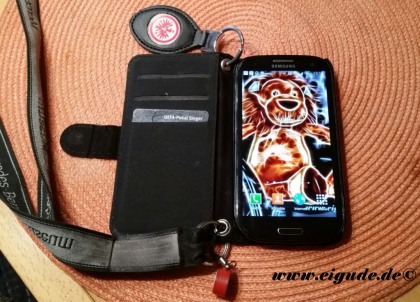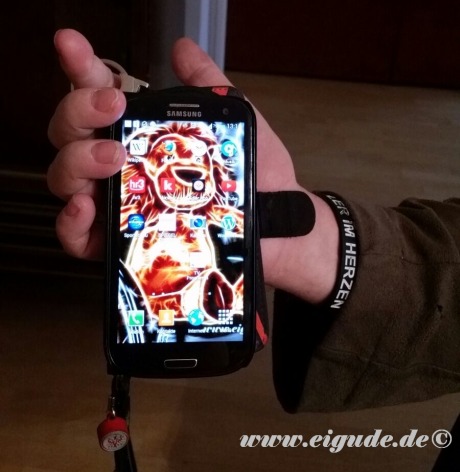 You all know those smart phone pockets, the ones that joggers wrap around their upper arms.
Take such a pouch and shorten the sling so it fits around your forearm.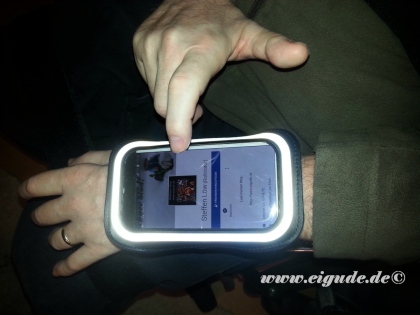 Now you can operate your smart phone with the other hand without the risk of it falling to the floor.
Translator BW