Whereas for a pedestrian the growing together of the bones after a leg fracture without surgery is assessed with roundabout 6 weeks, it is around 6 months for us para-/quadriplegics. This is related to paralysis, blood circulation etc.
After the fracture of shinbone and fibula in early September a plastic leg orthosis was my permanent companion.
I have reported extensively about the fracture, hospital stay,…(see older blogposts), then you know the complete story.
As self-confessed football fan of Eintracht Frankfurt I got of course the special edition Frankfurt.
leg orthosis type: direct re-promotion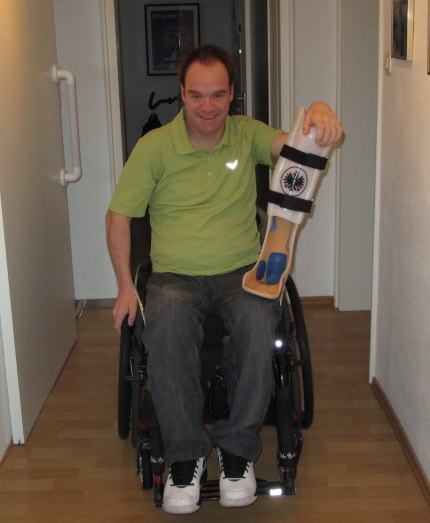 In the complete time during which I was wearing the orthosis Eintracht didn't lose a single match. I am closely connected to my club and sit out almost everything, but eventually I wanted to get rid of the orthosis.
Just in the moment when I slowly began to do without the orthosis – how nice… -, a match was lost. The re-promotion was at risk!
I wasn't sure, was it my fault???
What next… should I have to wear the orthosis until the German championship title 2013???
Yesterday I didn't put on the orthosis the whole day and was worried that Eintracht wouldn't lose the match.
Of all things the opponent was Rostock. There was an occasion in the early 90s, I don't want to remember this match… (translator's note: 20 years ago Eintracht lost against Rostock on the last matchday of the season and thus didn't win the German championship title.)
Rostock : Eintracht
1 : 5
The spell was "broken" and the fracture will heal soon!!!
The orthosis is standing well next to the closet and is only put on when needed.
For the championship celebration 2013 I voluntarily put on the orthosis again.
Translator BL
Tags: Broken Leg, Eintracht Football , Frankfurt, Football, Orthosis