I am always happy when my blog is not only read, but if other tips are sent to me as well.
In my blog of 04.02.2012 I described (see older blogpost), how fast the disabled parking permit escapes in the car at forceful braking and vanishes into the ventilation slot of the windscreen.
A citizen from Potsdam involved in the problem has given some thought and developed a
.
This object is great and is awarded after a long-time test for several weeks by the unbribable (except for fresh nut slices), independent Rollinator test team, with the new founded
Roll-On Innovation Award on the Silver Axis
for technical aids. The parking permit holder is a holder made from Plexiglas in which the conventional disabled or resident parking permits can be inserted.
The holder has a dovetail on the lower part with which it can be put in the much dreaded ventilation slot. Thereby the construction turns upwards, so that the permit clamps in parallel to the windscreen.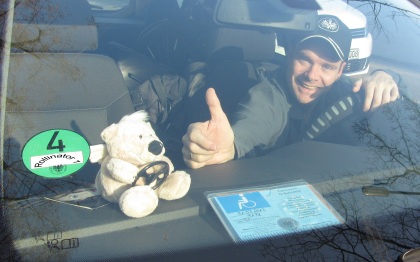 The permit thus will be seen very well, but can be removed any time "tetra easily" from the holder.
It is a well-thought new technical aid which is not only functional, but has a reasonable price as well.
For more information see www.parkausweishalterung.de
Translator BL
Tags: Car and Hand Throttle, Handicap Parking, Technical Aids, Links, Parkausweishalter, Tips and Tricks