After the usual administrative chaos caused by all those who can cut a piece of paper gets currently out of hand, I feel a bit like the "Hauptmann von Köpenick" (synonym from German literature for a catch-22; without residence no work, without work no residence), and I have decided to take 3-4 valium more and turn again towards my
passion,
the technical aids for quadriplegics. What a sentence, the blue things are helping already, I am suddenly missing the fullstopslll
Knife, fork, scissors, flames, have no place in quadriplegic's gamesl
That's about true

To cut paper with a scissor is not funny,
especially when you like me can't even press a clothespin.
If
scissor-type silhouettes
aren't going to be the new hobby I can highly recommend a
Paper Guillotine,
one-arm-usage guaranteed "fullstop".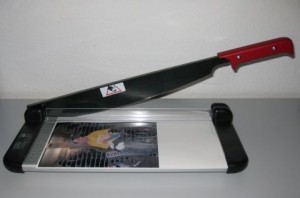 The blue pills are ttzzzzzzzzz
Translator BL
Tags: Grip, Technical Aids, Paper, Cut, Quadriplegic Tips, Tips and Tricks