After I have tested the canary islands for accessibility already several times (see older blogpost), the choice was Mallorca this time.
Although I have never been to "Malle" before the challenge shouldn't be too big, German is spoken… ok, English and some Spanish are there as well

The number of accessible accommodations seemed rather limited, if you know any please write a comment.
I selected one of 3 accessible studio apartments in a normal hotel complex in Palma Nova. I had the suspicion to be the only wheelchair user in the complex, this could be funny.
ATTENTION, PRODUCT PLACEMENT OUT OF CONVICTION:
I have booked like several times before through a special travel agency for handicapped www.runa-reisen.de, with whom I always made good experiences. They additionally organized a vertically adjustable bed and a shower commode chair.
Should you need an ambulant nursing service on Mallorca the situation gets a little bit tricky.
In the internet you find immediately around 10 addresses of nursing services. Some of these don't exist anymore for years, but the website is still online. Great…!!!
I talked to a physician in Germany who has sold his nursing service on Mallorca 10 years ago which is bankrupt in the meantime. The doc is still named in the website credits and doesn't get his name deleted

I had some nice conversations with private persons who had involuntarily taken over the contact phone numbers of these websites, but they have given me other possible addresses of nursing services which they knew.
At some stage even I was successful, German nursing service, top service, address on request.
After extensive planning, I "only" wanted to go for 12 days to Mallorca to the sea and not to climb the Kilimanjaro, we finally started.
Without major difficulties I arrived at some stage after transfer, check-in and security check in the handicap service private shuttle on an outside position at Frankfurt Airport in front of the plane to Mallorca!!!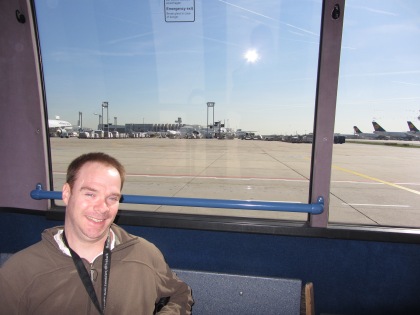 To be continued…
Translator BL
Tags: Flying, Airport, Frankfurt, Kanaren / Mittelmeer, Mallorca, Holiday