I recommend to each wheeler to ring around 30 minutes before landing for the flight attendant, provided that you can reach the buzzer… and point out that you need assistance at destination to leave the plane.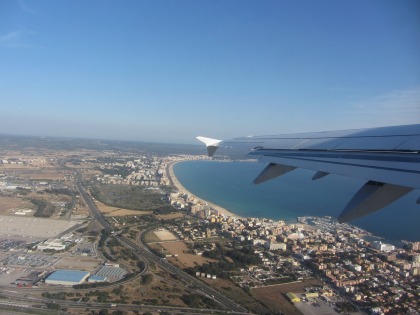 To be on the safe side I ask additionally that my wheelchair and Minitrac, like officially tagged "Delivery at aircraft" (see older blogpost), should please stay at the plane and not be treated as piece of luggage.
If the wheelchair is lying on the belt for bulky luggage and you are still sitting in the plane the whole thing gets a little annoying.
I also ask for the reason that the pilot can leave some time because he has to wait until I have left the plane.
This can easily take 30 minutes until a kind assistant is coming who might even ask you if you are the "wheelchair" and able to walk… everything already experienced!!!
During this waiting period you can kill the time by joking with the crew, bumming some nuts and watching the cleaners at work.
Don't forget to send a crew member down the gangway to look for the wheelchair so that nobody throws it to the baggage cart.
Well, fine…!!!
We were on Mallorca!!!
As usual it took a little longer to leave the plane. I was pleased to hear from a flight attendant that my wheelchair was still standing in front of the plane. Ufff…
I could receive my Minitrac, as "NOT desired" at the baggage claim in the terminal.
A lady from the Spanish handicap service at the airport
sin barreras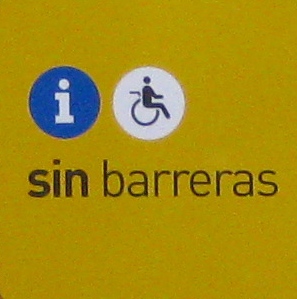 with which I already made very good experiences in Tenerife and Lanzarote accompanied me to the baggage belt.
She reminded me a little of the stereotype about the grumpy Spanish waiters…!
The luggage was found quickly, it is anyway always the last on the belt. After the 50th round the sun lotion turns into butter


The lady wanted to back off already, but there was still something missing, where was my Minitrac!!!
There was no real consent where the Minitrac could be.
After around 20 minutes "Gate 2" opened and I had won, my Trac was found. Yippie…
Quickly got out of the terminal, the taxi service to the hotel was already waiting, and in record time I was in the hotel in Palma Nova in my room!!!
To be continued
Translator BL
Tags: Flying, Airport, Kanaren / Mittelmeer, Mallorca, Minitrac, Holiday