The hotel complex Ponent Mar in Palma Nova is definitely recommendable. It has 3 accessible one room apartments and plenty of ramps with the known
Spanish 6° gradient.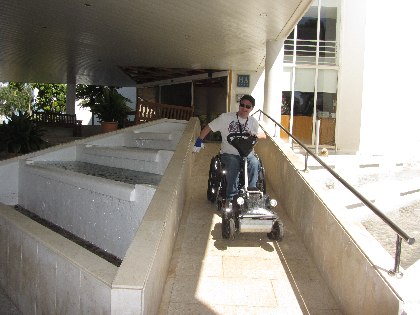 The hotel is up on a hill on a steep coast from which you have a great view to the beaches of Palma Nova.
A wheelchair tractive like my Minitrac to climb the hotel hill is beneficial.
Alternatively it should be considered to take along a well-trained human wheelchair pusher before booking. The hotel is approached by taxis as well which are available within short time.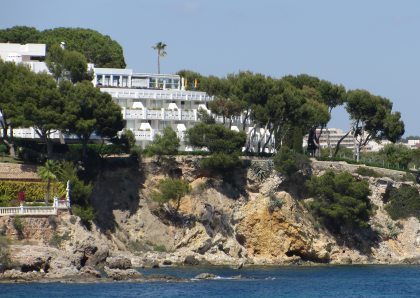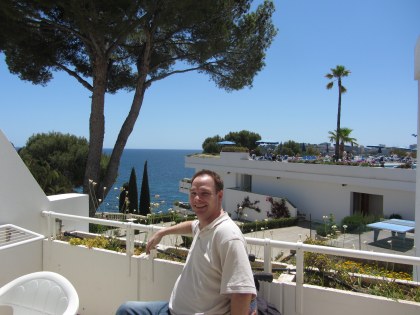 Someone has really put good thoughts in the furnishing of the accessible rooms:
On grade shower with separable shower screens, adapted kitchenette, extra wide sliding door with extra ramp to the balcony, clothing hooks in hobbit height and even lowerable clothes rail in the closet.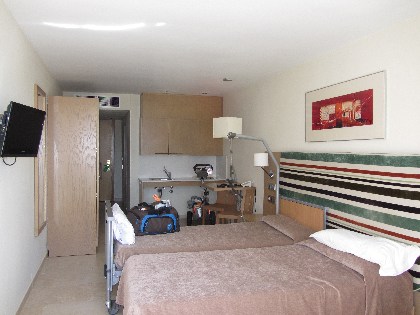 After we have noticed on the first evening in the hotel restaurant that the tables were not high enough for my wheelchair I was routed on the next day by the good-humoured waiters with several "holas:"
Without further ado they had placed a slightly higher table strategically well and reserved it for us for the duration of our stay.
You can quickly start a conversation with the other hotels guests in the languages Swedish, Danish, Norwegian, Dutch and English. German is rather uncommon.
I have been to Mallorca for the first time, but not one of my stereotypes was fulfilled:
The Sangria was only available in glass carafes and even without colourful straws.
Unfortunately I had to do without the battle with the English for the sunbeds at the pool, there were more than enough sunbeds available. Furthermore the other guests were deeply relaxed…
Not even the English rocked the corridor each night until 3:00 h.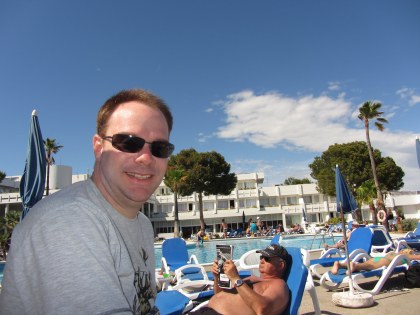 As single wheelchair user I was unasked "totally included" in the hotel, even though most of the hotel staff and guests probably never heard the word inclusion before

To be continued…
Translator BL
Tags: Kanaren / Mittelmeer, Mallorca, Minitrac, Holiday