There is a football god after all!!!
I have reported in one of my first blogposts how another Eintracht Frankfurt football fan I didn't know gave me his 17 year old
yellow Tetrapak Eintracht Frankfurt football shirt
(see older blogpost)
, which I was looking for.
As if I had anticipated it, I decided on Saturday 2 hours before kick-off of the match
Eintracht Frankfurt vs. Bayern Munich
to call my cousin to watch the match with him live on TV. I should mention that at this time Bayern Munich was unbeaten for the last 19 matches, and my cousin and I had endured the 0:4 home match loss against these Southern Germans half a year ago in the stadium.
Well then, my cousin had told his colleague my story with the yellow Tetrapak football shirt, whereupon he gave him a couple of weeks ago his old
red Tetrapak football shirt
for me.
Heaven only knows why Stefan came as well yesterday of all days to watch football with us.
Eintracht played great.
Within the last 4 minutes they could turn the 0:1 score with two goals and sent Bayern home with
2:1
The photo was made before the match.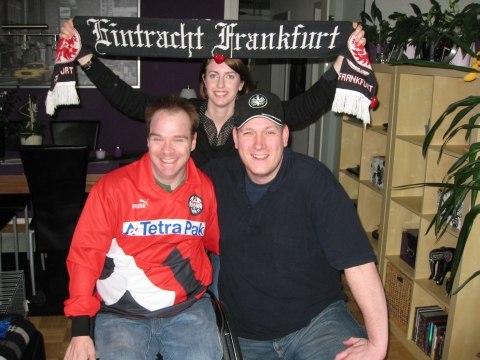 It shows the girlfriend of my cousin, Stefan and me.
Translator BL
Tags: Eintracht Football , Frankfurt, Football, Tetra Pak, Football Shirt