During my last stay in the wheelchair hotel Mar y Sol in Tenerife (see older blogposts) I wanted to do some physical training when I met the Scotswoman Mary.
On her wheelchair two aluminium tubes were fixed with hose clamps which made me a bit curious.
Even I didnÔÇÖt know what to do with this construction!!!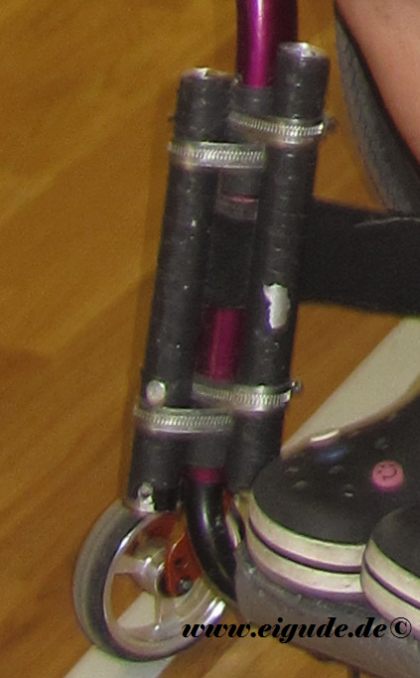 On my enquiry it turned out that you put those sticks into the tubes with which you push the rocks at wheelchair Curling. Curling is a very common sport in Scotland. If the term Curling doesnÔÇÖt mean anything to some of you, it is a sport similar to ice stock sport, but Olympic.
When she took out a black bandage glove which looked a little as if she wanted to enter the boxing ring with me for twelve rounds instead of spreading the ping-pong balls broadly in the gym she started to scare me.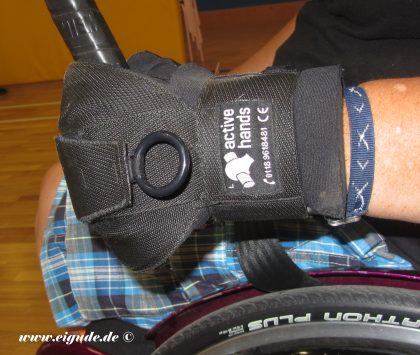 With this special velcro tape glove type Hand Grip she is holding the stick at wheelchair curling with which the rock is pushed, a ping-pong or badminton racket or hockey stick tight in her hand. This is working excellently even though she is quadriplegic like me and has very limited finger functions.
You can use the glove especially well for working out with weights, or supposedly for playing with the "Wii".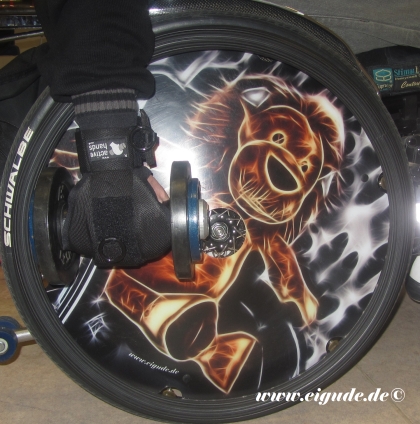 Maybe I should start with a 500 gram weight first, but I do everything for a good shot

The glove is from the English company active hands, who are specialised in gripping aids for handicapped (as well for kids).
I have ordered such a glove in England. It was delivered within a week. The price is quite high with 65 ÔéČ, but justified.
When you order the glove online beware that the check mark is set for "left glove". But you can put the left glove on the right hand without problems

The English have always been a little "twisted", this is probably because the genetic pool of the islanders is exhausted

Now I can finally hold a little hammer when I urgently need to consult my piggy bank.
Translator BL
Tags: Grip, Technical Aids, Mar y Sol, Sport, Quadriplegic Tips, Tips and Tricks