Empty detergent bottle to be used as "One-Hand Salt Shaker"
The topic of how to get through winter in a Rolli has been on my mind for quite a while (see earlier articles).
In one of these former articles, I advised putting salt in front of your car before the snow arrives, so that the wheelchair would not slip away while getting in and out.
I always salt my wheelchairramp (ski slope) at the front door at the same time.
One can easily imagine how "professional" it looks when a wheelchairdriver balances a bucket full of salt on his knees and tries to spread it on the driveway. This really does not work well!
One thing's for sure, the seat cushion on the chair as well as other "sensitive parts" will no longer freeze.;-)
After years of research the Rollinator team finally found a solution.
One-Hand Salt Shaker
(special wheelchairdriver)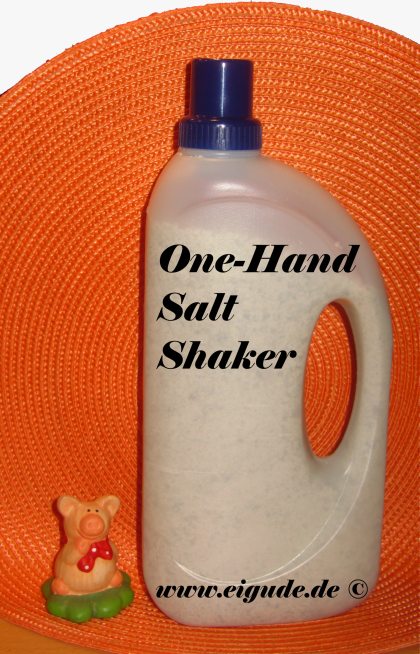 The One-Hand Salt Shaker stands out with its ergonomic form, which allows the user to aim more accurately when spreading the salt using only one arm.
You can pretty much modify any empty liquid detergent bottle. However, I advise against those XXL-supersize bottles because of the excessive weight. During laboratory trials wheels burst and users got thrown out of their vehicles (just kidding).
To fill the salt shaker, a proven method is simply rolling a newspaper, advertisement, brochure etc. to make a quick funnel.

To prevent the salt shaker from dropping you could attach a key chain to the handle and hang the bottle around your neck as some sort of a trophy – but don't get strangled… !!!
The special One-Handed Salt Shaker is also 98.74 % pedestrian and walking frame user friendly.
Translator BW
 
Tags: Technical Aids, Snow, Tips and Tricks