Already home for four weeks …!!!
As already reported, after taking a shower in March at home the titanium body of my implanted drug pump suddenly peeped out of my belly. It broke through the abdominal wall and I had to sign myself into the hospital again – after only three weeks of "Home" – Holiday (see older blog).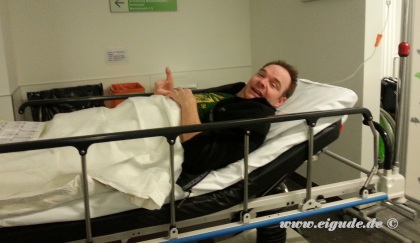 This time I was in the room next door at the same station as three weeks earlier; they still knew me there.
One could have the impression that I like this hospital food. I do not know what you eat for dinner, but this chef salad that is served every evening as an alternative selection is delicious. We can therefore say that the food there is quite good.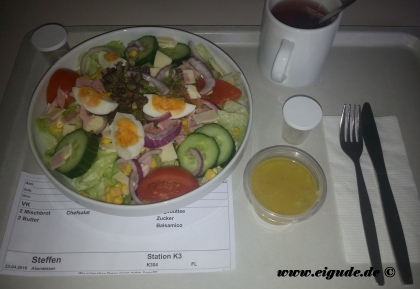 After several days of unsuccessful attempt to change back to oral drugs to eventually get rid of the pump completely, the old and no longer sterile pump including lines was taken out. For two weeks an external pump supplied the meds until in a second surgery a new pump including lines between the vertebrae into the spinal canal was implanted – again at the left side.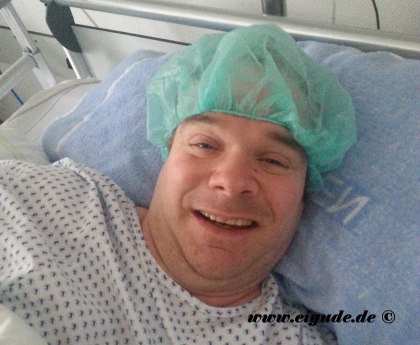 (Not bad, that dope!)
Nevertheless, the visits from the hospital pastor, various anesthesiologists and several nurses in the intensive care station, who still knew me from eight years ago, got me thinking.
This pump change or better yet new installation required another five weeks of bed rest, but they went without major complications.

Now I am back home for four weeks and I am already looking forward to the empty batteries in 7 years. That is when I will receive a new pump and new scars. I hope that the location of the pump does not need to be changed. Otherwise, above and below the navel there is still some space left.
When I look at the numerous scars on my neck, belly and back, I should probably reconsider my desired profession as a top model.
Translator BW
Tags: Frankfurt, Hospital, Medication Pump