At some time somebody told me something about his
car wheelchair
I have to admit that I haven't understood at that time why you need a special wheelchair for driving a car.
Actually it is very simple, it is all about the
Wheelchair Loading System (see older blogpost)
In the meantime, I have such a system. The wheelchair is folded, docked to the loading system, tilted by 90┬░ upwards and then pulled behind the driver's door.
In order to make this possible, the wheelchair should not be too long, because otherwise
it would not fit through the car door any more.
I was lucky, my wheelchair is quite short with its roundabout 85 cm length. It just fits into my
dove-shit-grey-metallic-coloured car from R├╝sselsheim.
(translator's note: In R├╝sselsheim is the German head office of Opel)
At
Rehabilitation fairs
the loading of wheelchairs looks always so simple at the exhibitors and operates error-free.
The demonstration car is never standing at a hillside, a curb, a busy street or on cobble stone.
Have a closer look at this picture: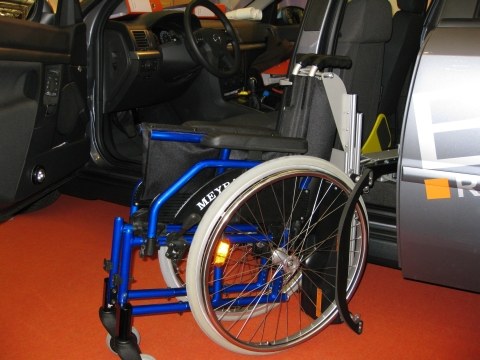 The footrests
were removed so that the wheelchair would fit into the car.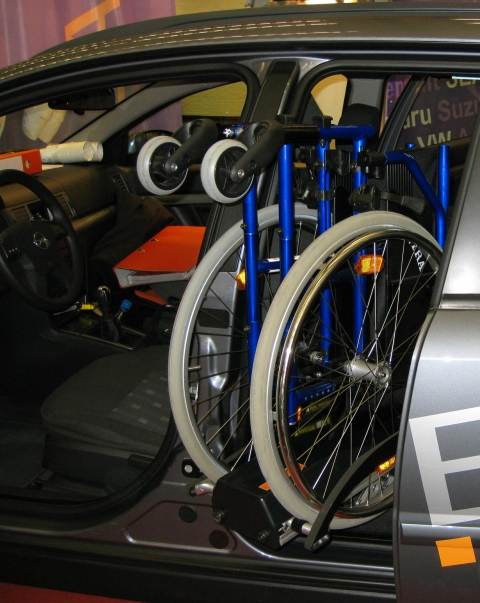 Have fun when you are levitating out of the car and remove and attach the footrests all the time. Where to put these things?
I doubt that even the employer's liability insurance sponsors in addition to in- and outdoor, sport, standing and beach wheelchairs, a car wheelchair as well.
Translator BL
Tags: Car and Hand Throttle, Technical Aids, Wheelchair, Wheelchair Loading System