As already mentioned a couple of times (see older blog posts wheelchair tyres) I had
Mountainbike wheelchair tyres
built.
With my wife I wanted to make a tour around a lake in Austria:
Vilsalpsee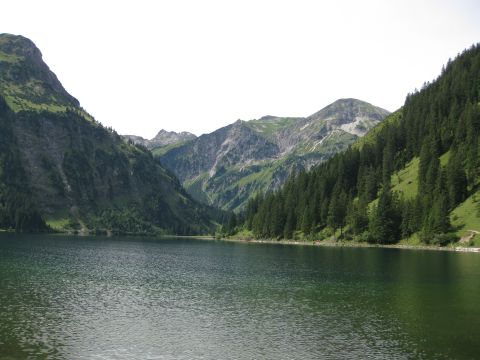 In combination with my shock absorbers and with assistance it is definitely possible to ride or push my wheelchair on hiking paths.
Gravel paths and pot-holes can be handled without great difficulties.
But suddenly I stood in front of a giant
Mud Hole
2 meters wide, 10 cm deep, 5 meters long, it was the path!!!
There even my
Outdoor Wheelchair
reached its limits.
After a couple of walkers who did not declare me completely insane what I am doing on their hiking paths with my wheelchair ensured me that the path would be accessible without any problems after passing the mud hole, and that they would help me, we took a chance.
New gloves, never mind!
No silly pictures were taken when I got stuck in the mud.
With pushing and pulling I got out of the mud and back on track.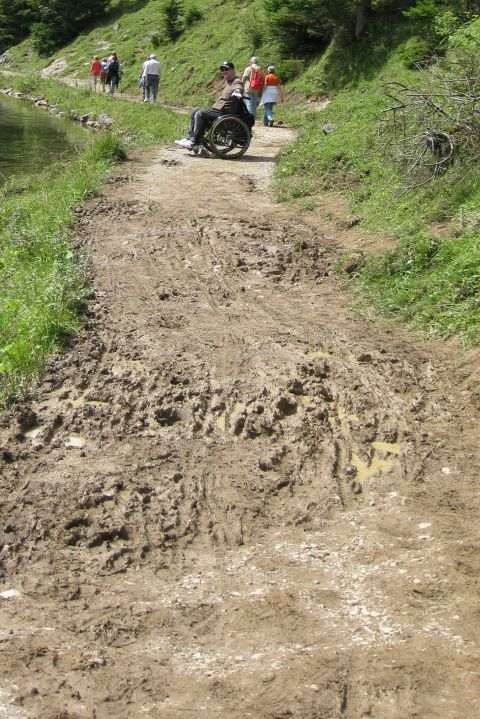 At least my hand rims had to be cleaned. Then it is quite helpful when you receive from another walker a big amount of baby wipes which – as she mentioned funny enough – had an apple-peach scent.
Well, the wheelchair wasn't clean, but smelled nicely.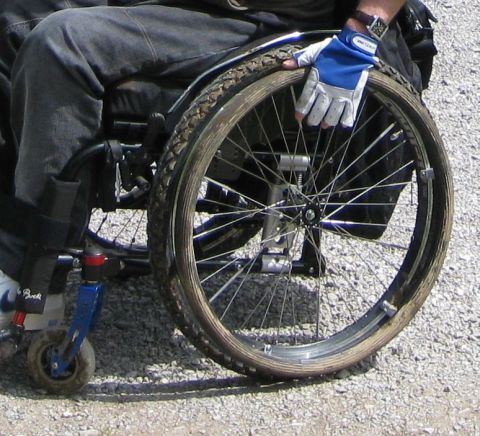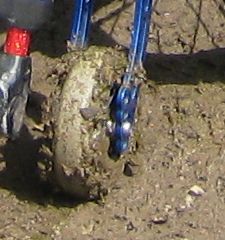 The supposed accessible path presented the next challenge quickly.
Although the bridge is only 1,5 meters high the ramp is just 4 meters long. Only marginally I would like to mention that I had to go down again on the other side.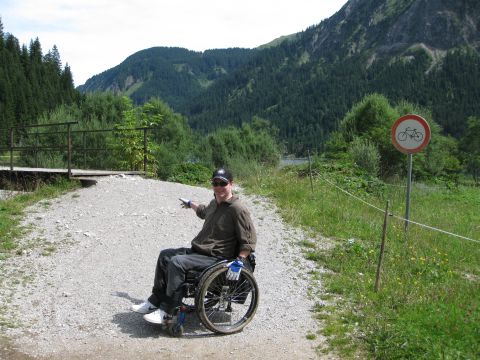 (The perspective is misleading.)
I slowly started feeling like Hobbit Frodo from the Shire.
After half of the round course the path around the sea turned into a country lane first and then into a paved highway.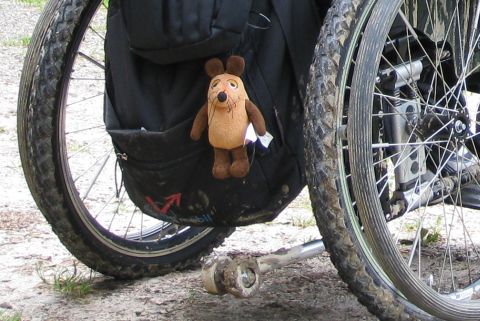 It took the mouse hours with her white tissue until my wheelchair was clean again.
Translator BL
Tags: Maus (Mouse), Oberstdorf, Wheelchair, Wheelchair Tyres, Holiday