Since I belong to the users of
disabled parking places
I have noticed that very often the drivers of
SUVs and Cabriolets
forget to lay out their parking permit if they park on a disabled parking place. I don't want to accuse anybody of the intent to park unauthorized on these parking places, only out of laziness, or because they can't park, but I am always a bit astonished. The width of the parking places makes sense if you transfer from wheelchair to car, and the door has to be opened completely.
A friend of mine, wheelchair user as well, is driving a SUV, a Jeep Commander with 7 seats. It's always an experience to watch him jumping in and out of his car.
He has always laid out his parking permit.
Free disabled parking places are scarce!!!
Every now and then I find a free one.
Here next to the "Old Opera" in Frankfurt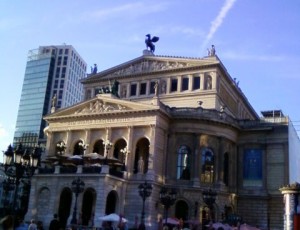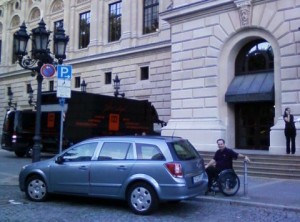 When I was at the opera "Aida" in Bregenz (Austria)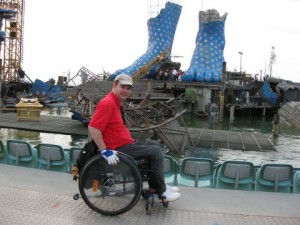 at the lakeside stage at Lake Constance I got hold of the last disabled parking place.
There was actually parking a
BMW Cabriolet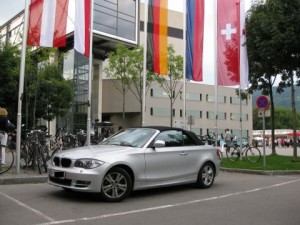 with a
disabled parking permit valid in California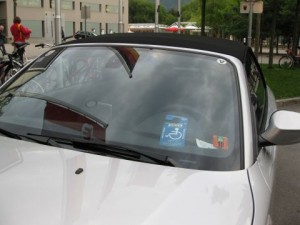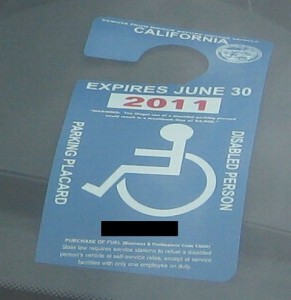 and this with a
license plate from Vienna
behind me on one of the 6 disabled parking places.
I would have liked to meet the driver!!!
If he would have been American he probably would have hung the parking permit – as it is common in the USA – on the inside mirror. Thus the form like a door hanger in a hotel.
Translator BL
Tags: Handicap Parking, Frankfurt, Opera