The market for technical aids is huge.
There is almost everything you can imagine in the broadest sense. The problem is not only that this stuff is unreasonably expensive, but also apparently nobody has ever tested it.
The Taiwanese fabricate a basically ingenious key holder, like a Suisse Army Knife.
This can be found in almost every catalogue for technical aids.
Because of its size the key holder can be grasped even with limited finger functions. If the key is stuck in the lock the holder is bent by 90° so that you can open the lock due to the big lever with your "little finger"!!!
Attention: If someone else wants to open a door with your key holder please point out to him that a key can be broken off quickly with this technical aid.
The bad thing is that our European keys are a little thicker than the Asian ones and therefore don't fit in. Such technical aids disappear in the cupboard, like the food processer from the home shopping channel. I have adjusted my
Key holder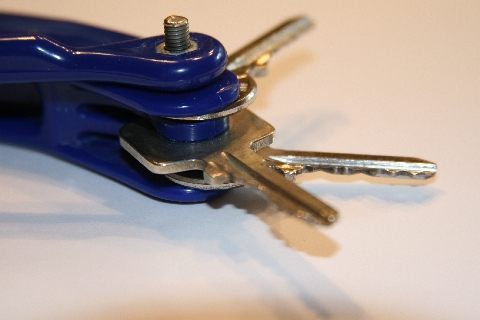 accordingly (filed the slots and provided with a longer screw), and I am using it daily.
Last year on the rehab fair I have pointed out this deficit to the Taiwanese. Yesterday I was at the Rehacare in Düsseldorf, but I didn't see the key holder any more.
Translator BL
Tags: Grip, Opener, Key, Quadriplegic Tips, Tips and Tricks