Los Cristianos in the south of Tenerife is exceedingly accessible, but quite hilly and only to cope for fit wheelchair users or with extreme pusher.
Wheelchairs, rollators, crutches and rented scooters or electric wheelchairs belong to the townscape.
An alternative to electric wheelchair or scooter is an approximately 60 kg heavy, little tractive.
Minitrac or Swisstrac

I call this thing a mobile cider crate.
With some practice the docking is quite easy. The tractive power is remarkable. I didn't have any difficulties with gradients, provided that the floor plates were not too slippery.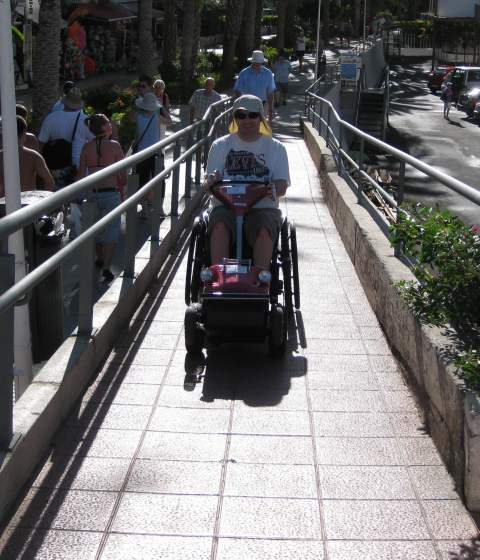 Curbs are no hurdles at all. The docking bar in the mid of the wheelchair can be de-installed easily, even with a foldable wheelchair.
The some year old Minitrac has passed my 10 day test quite well. Although it was mounted to my wheelchair in a little unconventional-creative-spanish way, it was technically absolutely alright.
The Minitrac a German and the Swisstrac a Swiss product are quite similar. I only heard good things about the Swisstrac, but haven't tested it yet. I have seen the new Swisstrac on a fair, the new docking station is easy to handle for quadriplegics.
I like these small things, and they fit into any trunk, if a well-trained pedestrian is found to lift it.
The colour was disgusting: pinkish red with glitter effect! Ugh…
There is one comment worth to be translated from the chief engineer of Swisstrac
Tags: Technical Aids, Kanaren / Mittelmeer, Minitrac, Wheelchair, Tenerife, Quadriplegic Tips, Tips and Tricks, Holiday