Almost all wheelchair users are using bicycle gloves which they buy every now and then at the discounter.
My needs for these quality products were plentiful, the more expensive ones weren't any better for wheelchair driving either.
I got the tip to switch to sailing gloves because they are more robust and additionally reinforced at the forefinger to let the ropes run through for sailing without burning the fingers.
Furthermore the glove fixes very well around the wrist which is very important for me as quadriplegic for braking to not loose the gloves. The velcro tapes are fixing well, and the leather is out of one piece. The gloves are available in Antara leather or Neoprene.
Sailing Gloves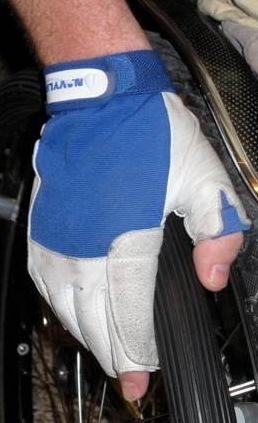 The price starts at 10,00 €.
Source of supply can be enquired.
Contact: rollinator@eigude.de
Now I am just missing a sailing boat.
Translator BL
Tags: Grip, Technical Aids, Wheelchair, Sailing Gloves, Quadriplegic Tips, Tips and Tricks