This story is 100% something, but nothing good.
Once upon a time there was a little wheelchair driver, I call him "me",
who was snoring like a giant, so he had to go to sleep laboratory.
Although the hospital is located in the same part of the town where I live, I should/had to stay on a normal ward after the tests in the sleep laboratory at night to doze and wait.
After 3 years with daily required assistance with the morning toilet I thought it wouldn't be the worst idea to enquire one week in advance if I had to consider anything.
Except that the rooms were accessible (I was rejected to look into the bathroom), I was told by a long-time sister nurse with white bonnet only that I had to bring a shower commode chair myself if I needed one, and that she didn't have time for me now. (see older blogpost).
She was reproaching later that I only had requests from the start. That's right, "information", what a cheek, how could I dare to ask questions about this ward?
One week later I went together with my shower commode chair to the hospital. I had released my girls from the daily home care service.
First night in the sleep laboratory.

Endless cables, ECG, EEG, breath measurement, microphone, camera tracking…
I am not sure if my update was completed successfully.
At 5:30 h to ward, get into bed.
A nurse came around 8:00 h, and a nurse trainee buttered my bread rolls, yummy breakfast.
(I thanked her for that).
Along the way I was told by the inpatient care that I had to stay another night.
I gave way to my senile roommate (he was drinking with preference out my glass and was glued to TV without sound) to go to the bathroom first with the nurse trainee.
My stay in the bathroom always takes a little longer even with assistance, what I also told to the nurse. She replied she would be coming when she had time. Well, I had to have time.
Bonnet, you know who I mean, claimed on the next day that I had sent away the nurse to have some peace in the bathroom. Of course you can interpret it like this if you let your roommate go to the bathroom first.
Around 11:45 h nurse and trainee came, helped me on my shower commode chair and assisted me for around 5 minutes in the bathroom, then they left me alone standing in front of the washing basin.
When I asked about taking a shower I got basically the comment:
You are not dirty, so you don't need one, and both left the bathroom.
I washed myself as far as it was possible with my motor skills.
The bad thing was that due to pipeline damage I could decide between cold and ice cold water. Retrospectively I didn't want to take a shower any more.
Somebody could have said something, it was known since a week.
After half an hour I rang the bell.
I was hoping to get assistance for further washing, transfer into bed and putting on the clothes.
How fatal!!!
Bonnet came to the bathroom extremely stressed, asked what I was wanting, she was dishing out the lunch, and she didn't have gloves. Ehhh… I was just a little late.
Short assistance in the bathroom and got my clothes together by myself. I just made it into bed with her help. Everything very relaxed!
Along the way she told me that once there was another wheelchair user there, and he had brought his own nurse. And I had released my home care girls!
Why have I been there a week before???
I was perplexed, stressed and did without any further help.
I don't know why I didn't tell anything to the ward physician who was just in the room.
During the attempt to put on my clothes myself a small older cut opened up and my bed sheet was dotted red.
At 12:00 h a nurse from the sleep laboratory came, my neighbour just got his lunch, she helped me to put on my clothes.
Then I had two examinations, later a sleeping mask was fitted for me, and I was explained in a kind of support group the function and maintenance of a "sleep respirator". Until then I didn't see a physician in charge, not that I mind…
15:00 h escape to home, I skipped my lunch which was still standing around.
20:00 h back to the lion's den.
Before I had just managed that one of my girls would come to the hospital the next morning. Whew…
For inexplicable reasons there was a label with the name of my senile roommate on my pill box. My dope is good. He had diabetes of high degree. Luckily he hadn't taken any of my pills yet. I locked them up in my closet.
I now had to use my from whomsoever prescribed sleeping mask in the sleep laboratory.
The sleeping mask, model: "I am your father",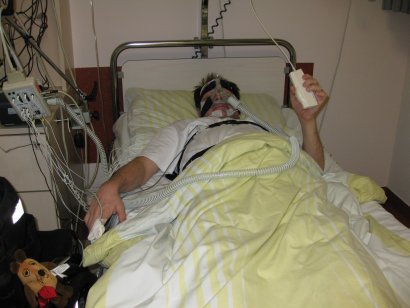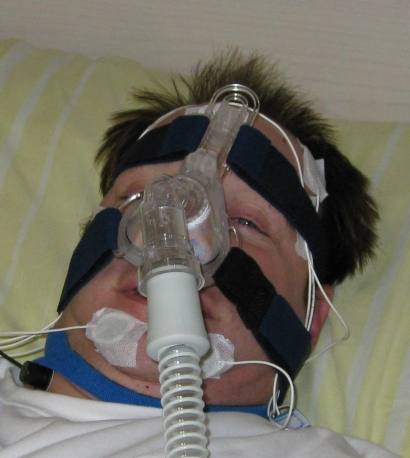 was not my cup of tea.
The alternative variant
type Dumbo
(nasal pillow)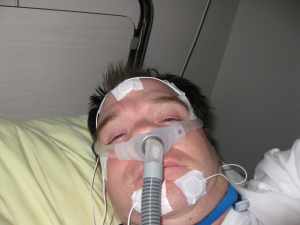 brought me peaceful dreams without snoring. Thanks to nurse Christine for the unbureaucratic help.
This system is very recommendable, I will write a separate blogpost about it.
Around 07:30 h it came between bonnet and me (she came to the room because of my roommate) to a debate regarding the "care" of the previous day.
The bed with the blood spots had never been made either.
My blood pressure is very low and rarely rises above 100.
Bonnet managed within two minutes to bring my blood pressure to around 140 even without any coffee, new record.
I had to hear several times that even handicapped people should say thanks and please!
This to me…, do I have to jump for joy when I may leave the bed at 11:00 h?
Two minutes after the small dispute my home care girl arrived. She told me that she had a suspicion from the start that I would have fun in the hospital.
She was working in this hospital before and knew bonnet with her kindness.
The shower works if you want it, and there was even warm water. Thanks to Vesna. Mysteriously even my bed sheets had been changed after my stay in the bathroom. Now absolutely useless!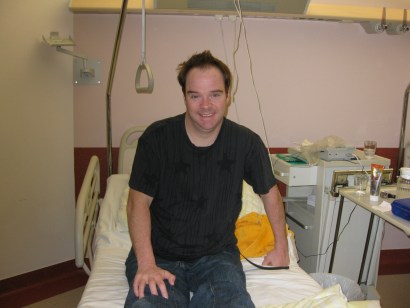 It was clear to me that I would leave this building as soon as possible. I visited the physician's room and had an appointment half an hour later.
12:30 h departure with shower commode chair and anti-snoring device.
Now personally for bonnet:
Thank you that I could leave this ward!!!
The whole stress for 2 examinations and 2 interviews between 12:00 h and 15:00 h on day 1 and one follow-up talk on day 2.
Bonnet reminded me strongly of the "penguin" from the movie "Blues Brothers".
Translator BL
Tags: Technical Aids, Hospital, Maus (Mouse), Sleep Laboratory, Therapy