In general I don't give way to panic and usually am not even afraid when I am carried up or down a stairway, provided that the volunteers don't have 1,5 per mill blood alcohol level and are able to stand on their own.
The only thing which makes me uneasy is to get in and out of the car in the dark – we wheelchair users are not always home after dark although this is the general opinion.
In this process the car door has to be completely opened for the whole time, and I don't want to end up as figurehead of another car driver.
To be seen better in the dark by other car drivers and provide a nice view to passers-by I have decorated my
driver's door type Christmas tree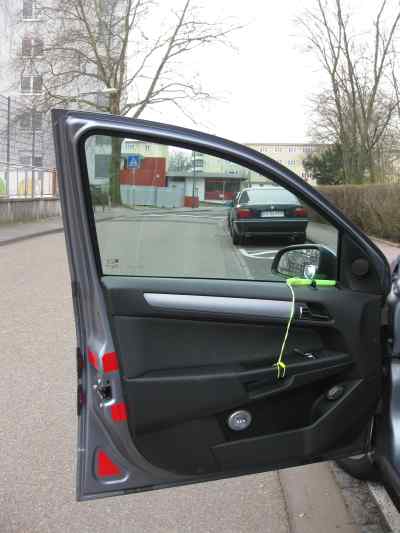 a little bit:
Red plastic reflectors from car accessories attached to the driver's door from the outside which are also visible from the front.
Red adhesive reflectors, stuck to the inside of the door.
A small battery-operated white LED lamp is stuck to the door with double-faced adhesive Velcro tape!
The absolute highlight is a blinking neon yellow-green battery-operated fluorescent bar.
I have introduced this part already in my blogpost from 09.03.2011(see older blogpost).
Safety instruction: The fluorescent bar causes nausea and insanity in the long run.
As you can gather from my words I am already beyond saving for years!
Translator BL
Tags: Car and Hand Throttle, Handicap Parking, Glowsticks, Reflector