On Saturday I was on a "development training" on the rehabilitation fair in Karlsruhe.
I am especially interested to test technical aids.
This is even more fun with prototypes. This
Unicycle front engine Type Slave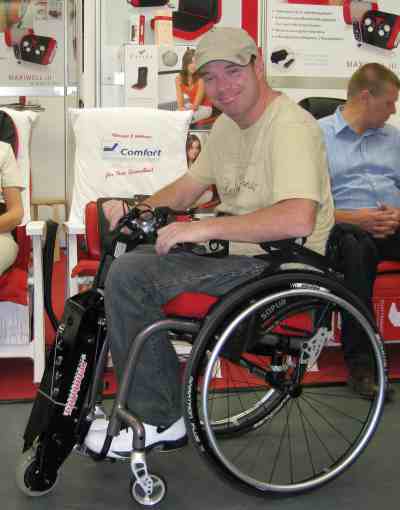 is just stuck on the footrest of the wheelchair. A stud bolt is clamped to the footrest before, and off it "goes". (Only suitable for wheelchairs with rigid-welded frame).
I didn't reach maximum speed due to my survival instinct. Without anti-tipper on the wheelchair it's a little tricky…
I don't consider the name slave as suitable.
The thing is very handy, you can quasi tuck it under your arm, and it is quite light with its approx. 9 kg.
To quickly drive to the bakery without having to transfer to the electric wheelchair it can be rather useful. If you have other ideas for possible applications please write a comment.
You should better be careful that your nephew doesn't mount the little tractive secretly to his child scooter.
I would have probably done it

Translator BL
Tags: Technical Aids, Wheelchair