I am coming back again to my favourite subject,
Handicap Parking



I have already experienced the "Worst Case" several times, that somebody parked his car in that way next to mine so that I wasn't able to open the driver's door completely any more, what is a "must" for me and my wheelchair.
To draw the attention of the other road users to it I have fixed a sign 15 cm x 15 cm with the text: "Please keep distance" at the inside of the door, which is however still "not seen" by some people.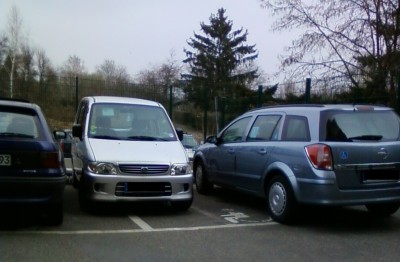 The CBF (Club of handicapped and their friends, Darmstadt), sells for little money a
yellow sign, "Please keep distance!",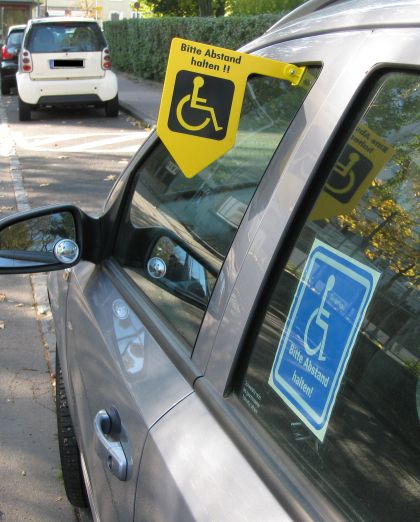 which one can fix to the window of the driver's door, like the flags from the football world cup. This sign can't really be overlooked any more.
I think this is great and ordered it immediately. Due to my broken leg with hospital stay a long time test could not be executed yet.
Source of Supply:
CBF Darmstadt e.V.
Link: www.cbf-da.de
There you can also order the handicap toilet key (see older blogpost).
Who still parks his car too close to mine then, I declare handicapped as well, i.e. blind, chronic off road dementia, or an incurable psychic disease.
Addendum:
A guarantee can't be provided, teehee…read Robo's comment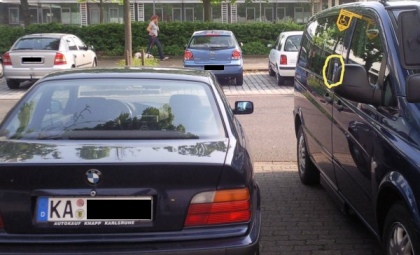 Translator BL
Tags: Handicap Parking, Technical Aids, Parking Sign, Tips and Tricks