When I was watching the fine art of women's beach volleyball (of course out of sporting interest only) from the beach promenade in Los Cristianos in Tenerife, two elderly ladies came by and addressed me in English. They wanted to give me such an Anglo-Saxon information brochure.

The women are playing on the left field
I had a specific presentiment and said to the ladies that my English is not the best. It turned out quickly that the ladies were German.
Because I stood next to a small wall and they blocked my escape – I didn't want to drive over their feet with my harnessed Minitrac – I got involved into a little chat with them.
Finally they gave me a German brochure about stressed and overworked physicians… eh…!!!
Well, since my accident 2007 I am quite familiar with this subject, but mainly from the perspective of a hospital bed during the ward round.
Just another two years, and I will know more physicians than there are beer brands in Germany.
By taking a closer look into the information material I had to grin a little about the up-to-dateness, have a look yourself:
Unbelievable but true:
Edition January 2005,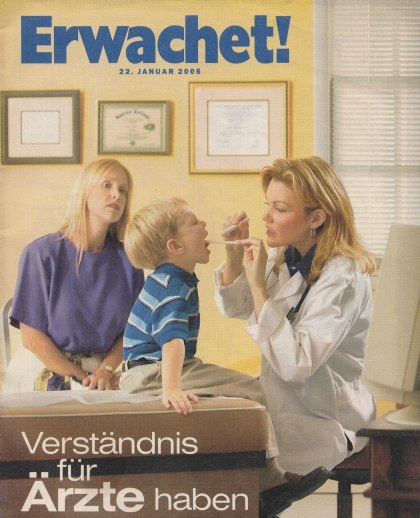 At that time I was still pedestrian!
(Translator's note: German readers immediately recognize "Awakening", the magazine of Jehovah's Witnesses in Germany)
Well, strictly speaking the first edition of the bible wasn't published yesterday either!
Translator BL
Tags: Crazy Flash, Kanaren / Mittelmeer, Tenerife, Holiday