I have reported on 26.01.12 (see older blogpost) how I was fighting against windmills similar to Don Quixote.
My windmills were just wheelchair tickets for
Sunrise Avenue,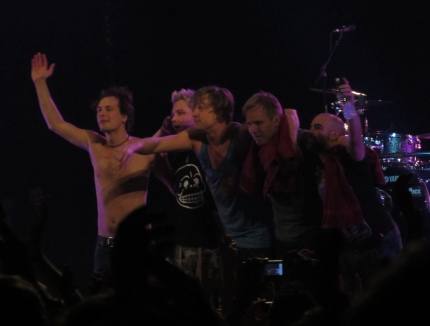 in the Jahrhunderthalle in Frankfurt (an event hall), which basically shouldn't have been a big challenge.
I didn't let up for months and amongst others wrote directly to the band asking why I was ignored??? I am still waiting for a message on their part… so be it…!!!
Meanwhile the concert was sold out!
In the meantime I wasn't keen on going/rolling to the concert any more although eventually the desired object was lying in front of me.
Yesterday the day had finally arrived, the concert moved a little into the background, I was rather curious if I would be the only wheeler, and how possible other wheelchair fellows got their tickets.
I already saw a couple of wheelchair busses on the parking lot, which made me hope not to be the only frequent driver.
The guys from the Red Cross accompanied me with the lift to the first floor (see older blogpost).
They told me I should go directly to the wheelchair tribune, there were already some wheelers there, and it could get a bit tight. I was also told about the difficult ticket organization.
It was "organized excellently". A very strong employee of a security company, he made me fear with his figure, pushed me up an extra steep designer ramp, probably there was a sculptor at work, on a small tribune.
The tribune wasn't big, even for us small people. In the end it was fully occupied with 13 wheelchairs. Later I saw two wheelchairs which were not standing on the tribune and wouldn't have fit onto it either!!!
I don't know how many more fellow wheelers were standing in the audience, but the companion had to stand among the pedestrian crowd due to lack of space.
For rehabilitation purposes I have to admit that the guys on stage in front – although they can't write e-mails – are real stage hogs, and I have seen/heard a great rock concert.
After the concert as usual it got a bit cramped in the crowd. On a bistro table in the crowd there stood a giant with estimated shoe size 46. I dared to struggle through the crowd with my wheelchair exactly where he stood.
He didn't bother to take his splendid foot out of the way by only 5 cm and send a contemptuous look downwards.
I looked up, grinned and said to him:
I will make myself small!!!
Then he took the foot away

Translator BL