The sun beds in the Mar y Sol in Tenerife at the pool are extra high for us wheelers so that it is easier to transfer.
But because constant hanging around on the sun bed can lead to permanent back disorders I decided to perform some complementary training.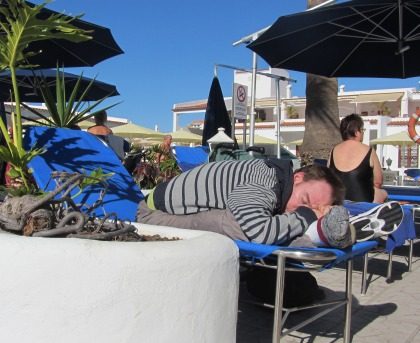 After the training match of the Swedish national team in wheelchair rugby (see older blogpost) the sports hall of our hotel was available for us tourists again.
The idea of my mates to play wheelchair hockey I found quite appealing.
Once upon a time in a galaxy far, far away… or roundabout 25 years ago it was the last time when I had a hockey stick in my hands.
At this time I was playing hockey at the club SC 1880 Frankfurt until the last youth age class. Back then of course with real wooden sticks.
The plastic sticks were not heavy at all with about 200 g. But there it was again, the challenge: How to play hockey when you are not able to hold the hockey stick because of the paralysis of the hands as quadriplegic.
The first attempts to bind the stick onto the arm with bandages and theraband did not lead to the desired success.
With black duct tape a match overlasting
Hockey stick-hand-arm-adaption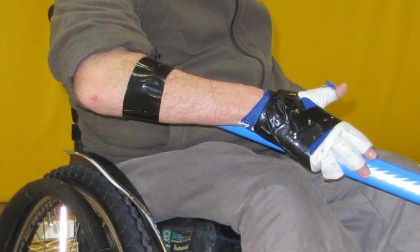 could be achieved. I was quite satisfied with the result, and the wheelchair hockey match was fun.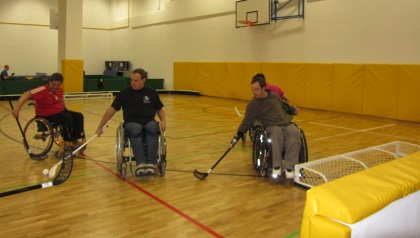 After the match there was actually only one loser, my skin…!!!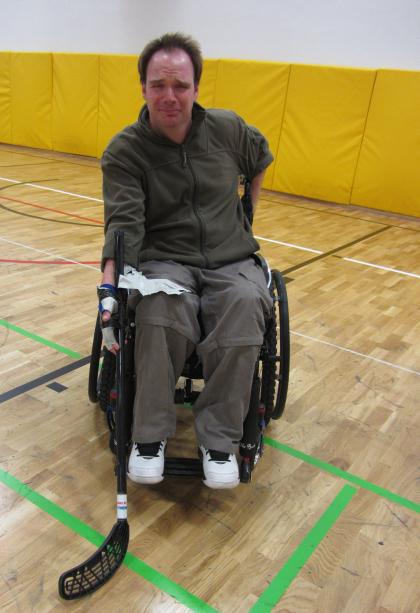 Wheelchair hockey is excellently suitable for permanent hair removal

Translator BL
Tags: Grip, Kanaren / Mittelmeer, Mar y Sol, Sport, Tenerife, Holiday