In my blogpost of 14.04.12 I expressed the suspicion (see older blogpost), that I am possibly a God of wrong deliveries, because I NEVER receive the ordered medication and medical devices.
Yesterday the time had come again, yet again the wrong compresses!!
My e-mail was rather short, but with
Memory picture for the warehouse staff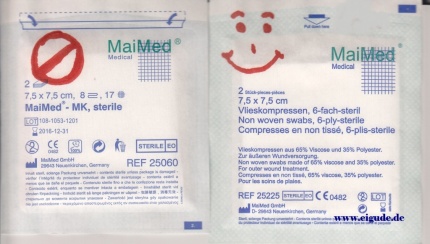 From the medical supply store I received a reply immediately:
…what should I say, I think the previous e-mail is self-explanatory!!!
The picture is going to be my new background

)
I even had your case in our department meeting, your name should ring a bell… I don't know what else I can do… I am really sorry!
Shortly afterwards I received the following e-mail in copy:
Please note the 31 exclamation marks in only 7 sentences.
Hello altogether, AND ESPECIALLY DEAR COLLEAGUES FROM OUR WAREHOUSE!!!!!!
It is not even a month ago that our customer Mr Rollinator took unbelievable 3 attempts to receive his compresses in the usual way!
NAMELY VYLENE COMPRESSES FROM MAIMED STERILE!!!!!!!!!
I don't know why this is such a problem, but it simply can't be true that the customer has received the wrong compresses yet AGAIN, especially because I have extra pointed out to you that you should look into the following already packed deliveries!!
I am glad that Mr Rollinator is simply an unbelievable patient person, but I would be FRANTIC!!!! And I seriously mean it!!
I don't think it is funny, because unfortunately I don't have any apologies left!
Please RETURN THE GOODS AND SEND THE CORRECT ONES AND CHANGE IT DIRECTLY FOR NEXT TIME!!!!!!
(Original colour of the e-mail, name changed)
Translator BL