Wheelchair Ramp Occupier
I have currently started to write a few new blogposts.
But these have to wait to be published, because what happened yesterday has to be told…
When I bought a flat back in 2005 still as pedestrian together with my wife and a friendly bank, a parking place directly opposite the entrance was included for a little surcharge as well.
Awesome… Our own parking place in Frankfurt!!!
Unfortunately the parking place is too narrow for me to transfer from the wheelchair into the car, so that I have applied for and got a disabled parking place in the street (see older blogposts).
I have a lot of visitors like physiotherapists, friends and other people who are helping me with various things.
They probably only come that often to use my parking place…

I have a good relationship with all my neighbours.
One of them owns a couple of taxis which are sometimes parked in our courtyard or street a little unconventionally during driver change, especially when he has new drivers.
Last week at least three times such a beige vehicle was standing on my labelled parking place (see lifter picture), and this even when I had a visitor on Sunday morning, when you don't know anyway where to park your car!!!
When I met my neighbour on the same day I told him in round terms to tell his drivers that I don't want to see one of his taxis on my parking place any more.
Yesterday on Friday I descended with my
platform lifter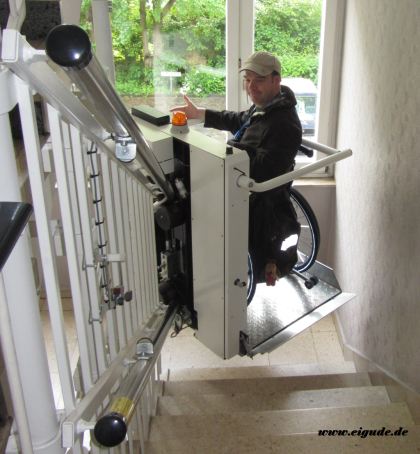 from my flat in the 1st floor and wanted to leave the house on my Flower Ramp (see older blogposts).
My low blood pressure was healed promptly.
I don't tend to hyperventilate, but yesterday it was almost the case.
After about 2 minutes and the photo I had calmed down again a little and rang at my
Wheelchair Ramp Occupier:
REMOVE THE TAXI IMMEDIATELY!!!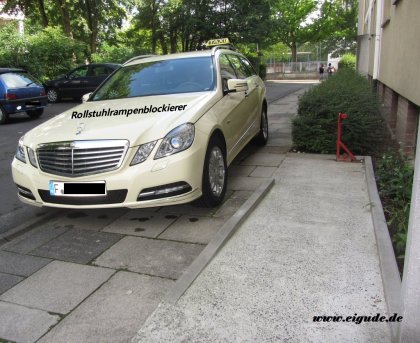 I should mention as well that no car was parking on my parking place.
Translator BL
Tags: Handicap Parking, Flower Ramp, Curbs, Frankfurt, Neighbour, Ramp, Home