Since I am rolling through the world for 5 years now, I have another enemy besides disabled parking place occupiers, namely doors.
These mostly white pieces are slowly turning into a phobia.
Not so easy to pull the door shut when you are standing… eh, sitting in your own way.
Hold the handle tight, roll backwards and mind not to fall forward if possible, or to do a backflip with the wheelchair.
In hospital I already had a long ribbon with which I was always fishing for the door handles. This ribbon is still hanging on the door of my flat and is serving its purpose.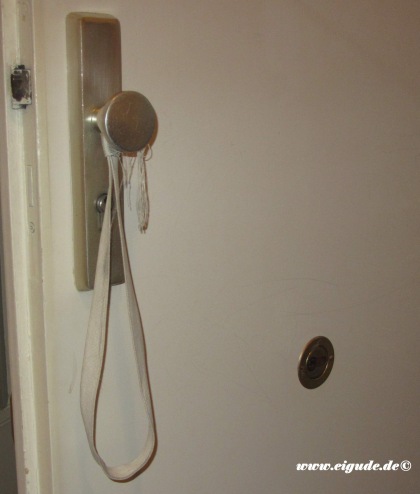 I hate my own kitchen door, it is one meter wide. I only say:
No arms, no cookies…!!!
Only the door knows why I haven't hung such a ribbon on my beloved kitchen door during the last 4 years.
The blue-yellow nordic timber worms offer drawer handles in all designs, sizes and colours. There were no more hurdles for the
kitchen door tuning.
A mate has screwed such a handle on my favourite door from the inside.
Now I can eventually close the door even when I am already standing in the corridor.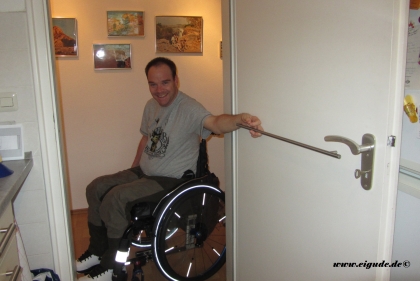 Because the screws have to be very long I recommend to immediately take threaded bars (on IKEA handles mostly thread M4), and saw it off to size only at the end.
If you leave the bars a bit longer you can even mount two towel hooks at the inside on the door.
Tip, always drill the holes from outside to inside and use an air level.
Looks a bit like a towel rail, I like it. Next, the door of my flat will be refurbished.
Before spot-drilling the entrance door it can't do any harm to integrate the landlord in selecting the handles.
Translator BL
Tags: Grip, Technical Aids, Kitchen, Quadriplegic Tips, Tips and Tricks, Home