Technical Aid of the year!
FreeWheel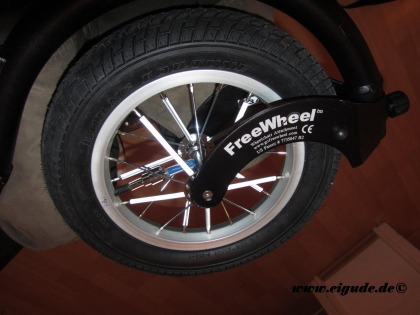 Uneven paths, curbs, cobble stone, sand, gravel, grass and of course snow are not really friends of a wheeler.
With a little oomph you reach an artistic score of 5.8 for your flight out of the wheelchair. This can end up annoying, see older blogpost Broken Leg.
The solution is rather simple, you "just" need a longer wheelchair. But if I had a longer wheelchair I wouldn't get it into the wheelchair loading system of my car.
My Minitrac and handcycle are great, but I always need a volunteer to get one of it out of the cellar.
A super alternative is a single wheel in the size of half a children's bicycle which you clamp to the front of your wheelchair, and when the front wheels are lifted it gets perfect. The wheelchair then looks a bit like a jogging stroller. There are various producers of such a system.
On the Rehacare fair in DĂĽsseldorf I have met Patrick Dougherty, the American inventor of the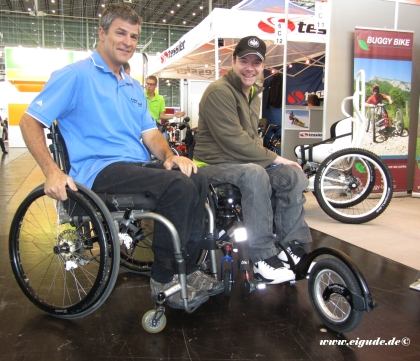 I knew this attached wheel from many videos from the internet, but it is not easily available in Germany. It is so small that you can store it at the back of a rigid frame wheelchair. I take it on my knees when I descend with my platform lifter because I have a foldable wheelchair. Just input "FreeWheel" in Youtube and see for yourself what is suddenly accessible, e.g.:
I could buy a new "fair wheel" from him which was still lying in the hotel. On the last day of the fair he deposited it at the booth of Runa Reisen, a travel agency for handicapped. I know their staff very well because I always book my holidays there. They have sent the FreeWheel to my home then. Thanks again from this side.
With the FreeWheel it is even possible, ideally with additional Mountainbike tyres, to ride safely in the snow. Now the next winter can start, or maybe even a little bit of desert…
The FreeWheel is clamped tetra-easily to the footrest of a rigid-framed wheelchair. (But I have a foldable wheelchair…???)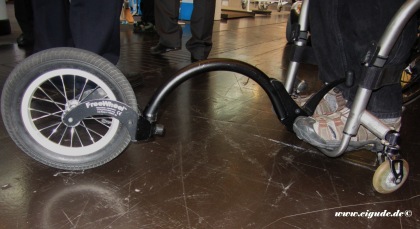 If you ride forwards afterwards the front tyres of the wheelchair are lifted, and the fun can begin.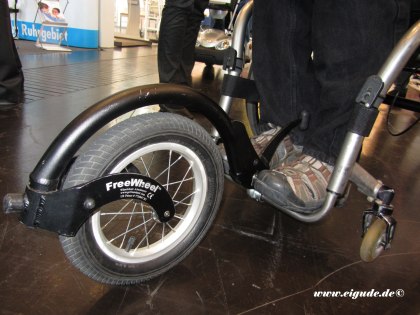 Because of the big tyres even "shocks" due to rough grounds are almost not noticed any more.
A rack with maximum load of 12 kg is available as well.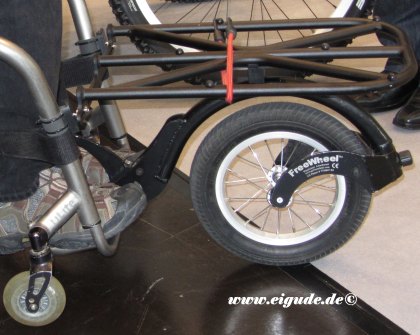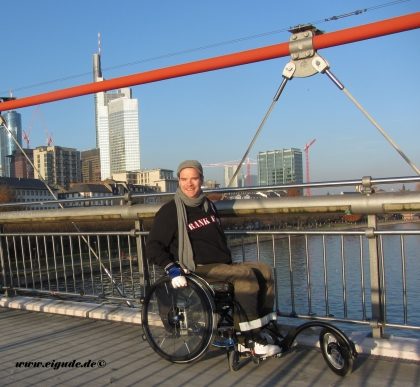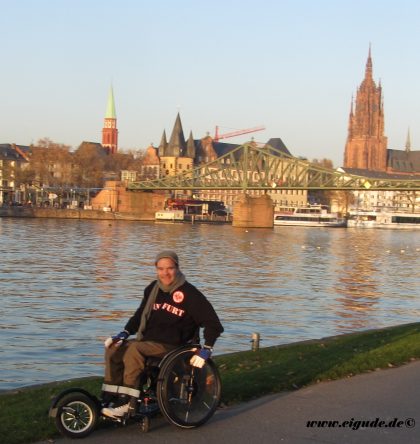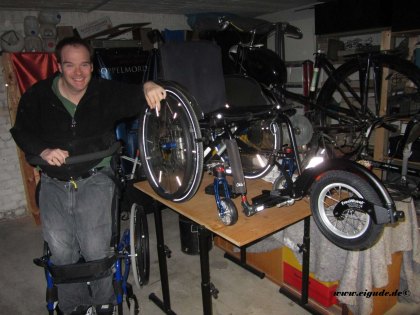 It has been upgraded with missing spoke reflectors incl. blinking valve caps (see picture above).
Of course Patrick wanted to know in detail how I get the FreeWheel clamped to my actually non-suitable foldable wheelchair by magic with Michael's help.

New 2014 FreeWheel for folder-wheelchairs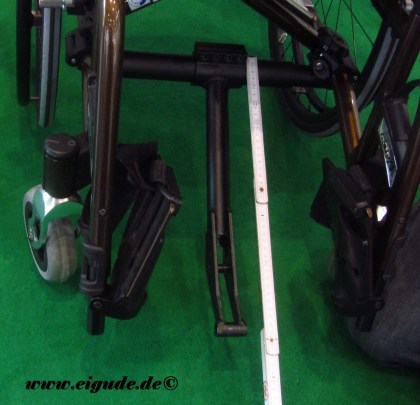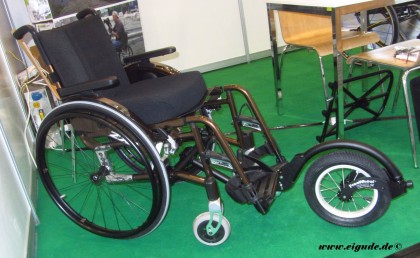 For enquiries contact as usual: rollinator@eigude.de
Translator BL
 
Tags: FreeWheel, Technical Aids, Wheelchair, Quadriplegic Tips, Tips and Tricks