Since one year, I am going to the Frankfurt University twice a week, and I don't mean the University medical center this time, which you may think in my age…
It's quite impressive when I announce sitting in my wheelchair that I don't have time because I have to go the sports university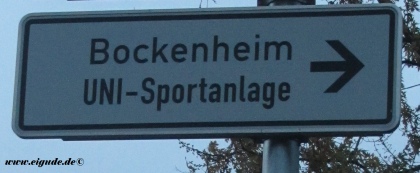 … no, I am not training explicitly for the next Paralympics…
I am there in a project group for
Stochastic Resonance Therapy (STR-Therapy)
This therapy, co-developed by the institute of sports sciences in Frankfurt/Main, transmits low-frequency (6-12 Hz), randomized vibrations by two plates independent of each other. *
The effect is quite complex.
In simple words, the feet are fixed onto 2 aluminium plates, or as pedestrian you stand on the plates.
These plates move/rattle heavily and simulate walking to the body. The nerves are stimulated and suppose walking to the brain.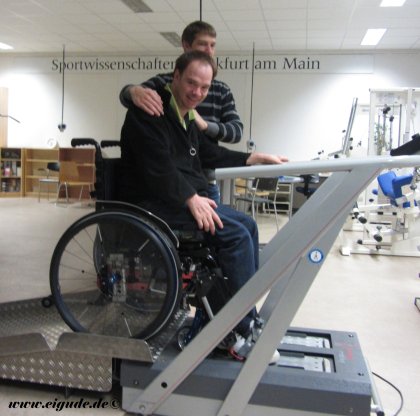 The success especially for people with walking disabilities is remarkable.
More information on Stochastic Resonance Therapy and experience reports and equipment (in German): click here and click here.
Except for the STR equipment there is normal workout equipment as well. A sports therapist is always available for us.
The training with other handicapped people is fun, and of course there is an intense exchange of experiences.
I wouldn't have thought that I ever would visit a gym voluntarily. There are still places available in the project.
In the video you can see Jens Maspfuhl, reigning 6-times German champion in Wheelchair Golf. He is chairman of the private incorporated society "German accident and disaster relief"
DUK-Deutsche Unfall und Katastrophenhilfe e.V.

This society is sponsor of the project and is funding it by donations and sustaining memberships.
The society also supports successfully a vocational school for disabled people of the "Father Ray Foundation" in Thailand, many of them wheelchair users.
Because of the flooding the price for rice has increased dramatically, and therefore the Foundation needs support to feed more than 800 people per day.
Additionally, the fundless highly quadriplegic young Thai woman Nuch is supported.
There are still some donation receipts and sustaining memberships left. Donate quickly before everything is gone…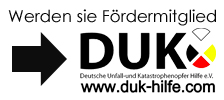 Every donation is well received in the projects, I am sustaining member myself and have donated several times!!!
Somewhere I can be seen with Jens on one of the cross-fading pictures on the DUK homepage, 16 pictures after the German minister of finance Schäuble

* Source C.Ebert
For questions as usual: rollinator@eigude.de
Translator BL
Tags: Frankfurt, Physio Therapy, Sport, Therapy