It doesn't always have to be the big reconstructions in your home like e.g. bathroom or stairlift… (see older blogposts).
Often you "just" need to drill a single hole at the right place to make life easier for a wheelchair user.
Because I never had a video-surveillance-security system at my apartment door I used a virtually maintenance-free, analogue peephole when I was pedestrian.
With its fitting height of 145 cm this is now only usable for me in connection with my standing chair, some ignorant mates call it standing wheelchair.
Because I order a few or many parts in the internet and like to look into the eyes of the courier drivers before I open the door I have drilled a 14 mm hole in my door in individually adjusted hobbit height with the active support of a friend.
A highest price Conrad Elektronik peephole order no. 75 01 63 for the full price of 6,39 € was then screwed in from both sides.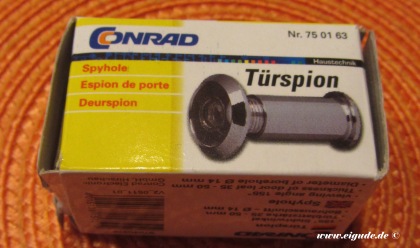 The analogue NSA hobbit peephole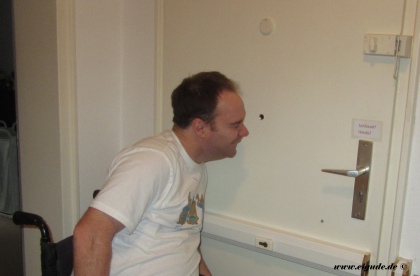 serves its purpose 100%.
The angular field is surprisingly good, you can see the face of the "ringer" even above a size of 1,40 m when he is there… !!!
You don't have to identify the courier drivers by the size of the parts they bring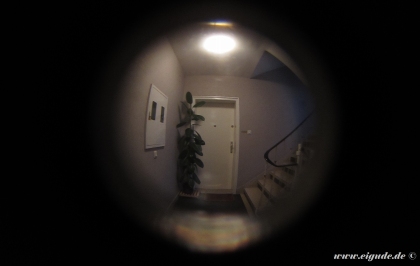 Read the blogpost about a handle on my kitchen door. I have mounted such a handle on my entrance door as well to close the door easier from the outside (see older blogpost).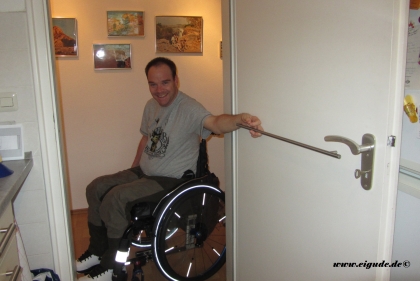 Now I only need a band-aid to hide the peephole in granny style

Translator BL
Tags: Technical Aids, Home