A visit to the swimming pool in my case turns out to be a little bit like the launch of a
Containership.
There are the most different methods to be
'Äěwatered'Äú
Possibilities are e.g. a hydraulically swinging bench, a chair in which one is wound down to the water, or a shower chair in which one is pushed down a ramp into the wet as at a ship's christening.
Into the sea one is pushed e.g. with a beach wheelchair.
(see older blog post).
The strangest variant reminds immediately of the good old
Chairoplane
on a fun fair. The fun begins with this
floating chair
being 10 cm higher than my cushion, and I would have had to unpack little wings to get on it on my own. Presumably for hygienic reasons the footrest was installed towards the inner side of the chair so that not everybody puts his unwashed feet on it.
If the jump on this thing was successful you swing the safety bar around. The copilot (assistant) drives you to the starting position in front of the pool, hooks you up with two belts into the hoist mounted on the ceiling, and the flight above the water may start.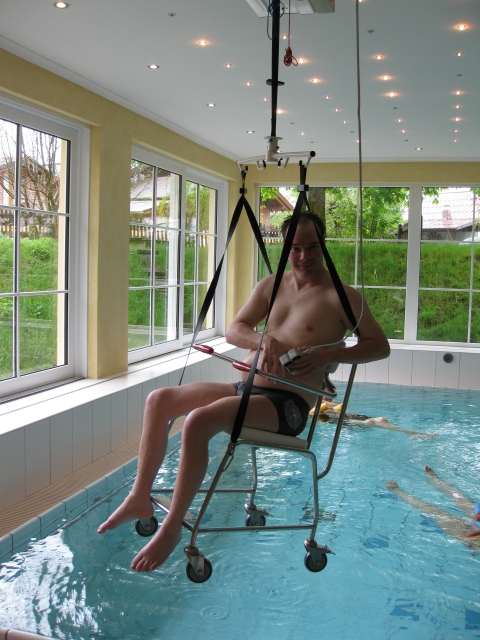 Before watering put on your life vest!
Translator BL
Tags: Bathtub Lifter , Technical Aids, Hoist/ Lifter, Oberstdorf, Schwimmen, Sport, Holiday