The first ride with a cable car in a wheelchair is an experience in itself. When I finally arrived on the top of the mountain the cable car operator wanted to help me out of the gondola immediately even though it hadn't stopped oscillating yet. I don't know how other wheelchair drivers would feel, but I don't like it if the ground is still moving while getting out.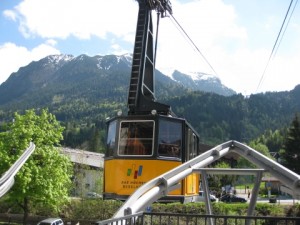 At the Nebelhorn in Oberstdorf there was an add-on:
To surmount some stairs to the sun terrace they have installed a
Platform lifter.
Basically a great thing. These things are nothing special for me because I live on the first floor and use such a lifter each and every day.
But with this lifter it should be
mandatory to wear a helmet!! 
No joke:
Usually the bottom plate is put down, the safety bars swing out and one drives on to the lifter to get down the stairway.
This one is a little different:
The bottom plate is put down as well, then one drives on to the lifter, and now you have to duck your head quickly, otherwise you will be struck by the swinging
Safety bar 
or pushed down the stairway…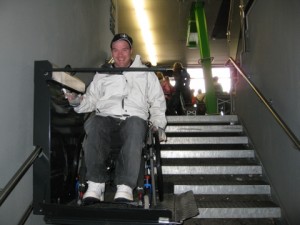 Positively to be mentioned is that the lifter operator pointed out this "specialty" in the last moment.
Translator BL
Tags: Technical Aids, Hoist/ Lifter, Oberstdorf, Holiday