Next we needed to select the airline. Since Sri Lankan Airlines is the only one that offers direct flights from Frankfurt and also because our friend is a flight attendant with them (a few connections can't hurt – see older Blog: food on wings), this was our choice. Various airlines from the Gulf States also offer flights to Sri Lanka, but of course not direct.
Sri Lankan Airlines allows 30 kg free baggage per person plus carry-on; my wheelchair plus a second one if needed, would also be free.
However, I had to make some phone calls (my "favorite activity" ), until I got the confirmation that both my bathroom chair "Artosy", which can be folded to fit in a hard case, as well as other medical aids would be carried for free, even without prior notification.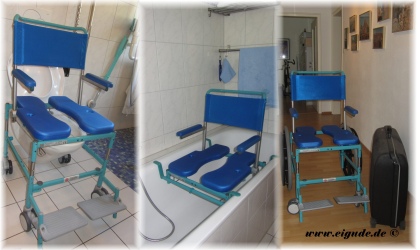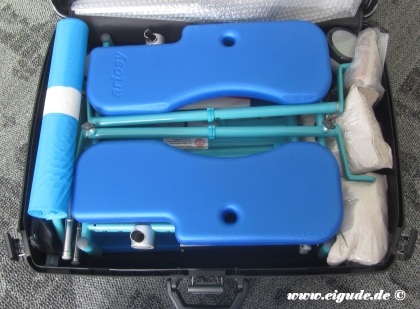 (Up to then I only knew that all expedients must be declared in advance. This info is as always without guarantee.)
In addition Sri Lankan Airlines still wanted some a kind of a medical form signed by my family doctor. Always something new…
The "International Medical Information Form" was what felt like the eighth fax copy of a micro script in English, which was hard to decipher before translation.
For a readable PDF-version of the questionnaire of Air Berlin click here.
Medizinisches Informationsformular (deutsch): Teil I und Teil II
Medical Information Form (englisch): Part II and Part II
Since I needed some additional vaccinations for precaution, and also a certificate for my meds, my Doc got to see me quite often during the weeks before the vacation.
At the end our luggage pile equaled that of an emigration! Between the 4 of us we hauled 5 suitcases incl. bathroom chair, 3 carry-ons, 1 XL-Wheelchair Backpack and 2 oversized women's purses. Had there been a film crew from VOX, it wouldn't have surprised me. However, despite shower chair and other tools we still had 30 kg unused capacity. We only declared my Rolli as special baggage.
Yay, 30kg free luggage for Souvenirs on the return flight – … the creditcard might get hot!
To be continued…
Click here to go to older blogs on the subject of "flying with a wheelchair"
To read all parts of the "Sri Lanka-Series" click here.
Translator BL
Tags: Shower Commode Chair, Flying, Airport, Technical Aids, Sri Lanka, Holiday