The selection of wheelchair tyres should not be under-estimated.
For the driving wheels it has to be decided first:
Full cushion or pneumatic tyres?
Many active wheelers are using
Pneumatic tyres Schwalbe Marathon Plus (until 10 bar*).
There is a persistent rumour that it completely doesn't matter how the tyre is mounted as no wheelchair tyre ever has a running direction.
Very convincing!
Due to the stud axles on the wheelchair the tyres can be switched from right to left.
Because the profile of the tyre is not equal there hast o be a difference.
I don't have much power and noticed the difference immediately when the tyres were exchanged, but this wasn't supposed to be possible.
Now I wanted to know and wrote to the company Schwalbe.
I have already received a reply on the next day: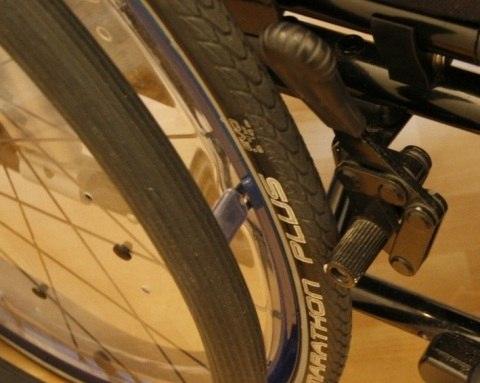 The tyre is mounted in the designated running direction so that it has a low rolling resistance.
If the tyre would have been fitted in the opposite direction it would have a better traction as e.g. for
ice and snow,
but then with a higher rolling resistance.
So this secret was disclosed as well.
At the next
tyre change
you should mind that you get tyres with additional reflector stripes.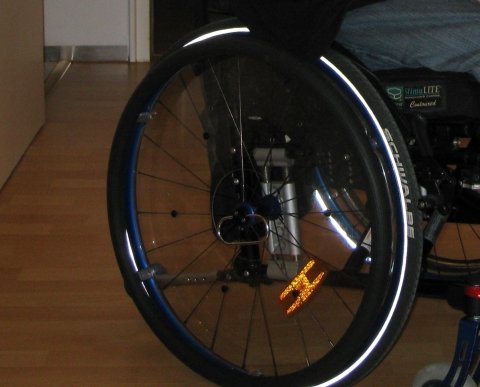 Thus you will even be seen when you are rolling home from the club at night.
* Tyres should have 8 bar pressure.
The other one has to feel it when you ride across his foot!
Translator BL
Tags: Technical Aids, Reflector, Wheelchair, Wheelchair Tyres, Tips and Tricks