I already mentioned the accessibility of Los Cristianos. They have equipped a special area for us wheelchair and scooter users on the beach over there.
You can drive in your wheelchair on wooden planks almost into the water.
If you really would like to go into the sea there are two wheelchair lifeguards who lift you with a hoist into a
Beach Wheelchair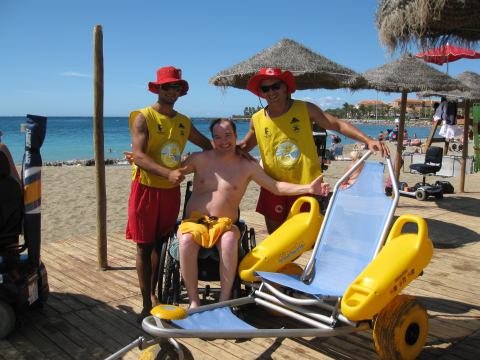 and move you across the sand into the sea.
The guys have pushed me across the beach at a run. I was shocked that Spaniards can move that fast, respect.
Swimming in the sea for the first time after 3,5 years, what a feeling!
I was hardly in the water, and the big fish die-off began.

Translator BL
Tags: Technical Aids, Kanaren / Mittelmeer, Wheelchair, Schwimmen, Tenerife, Holiday