The recurring
Quarterly 10 € Surcharge Donation
at the doctor is inevitable for me, even in bad weather conditions.
(Translators note: For medical consultation all patients insured by a public health insurance in Germany have to pay 10 € private surcharge per quarter.)
I always feel a bit pressed at the start of each quarter.
Without donation no dope!
To donate at all you currently need a lot of doping merely for the journey.
Before my accident I was often in the alps in winter and used to quite a lot.
But yesterday's trip with wheelchair to my general practitioner reminded a little of a polar expedition, and that in the middle of Frankfurt.
When I finally arrived against all rarely worth mentionable odds in the street of my doctor at some time, I just had to overcome this
Wheelchair test track type ice skating rink.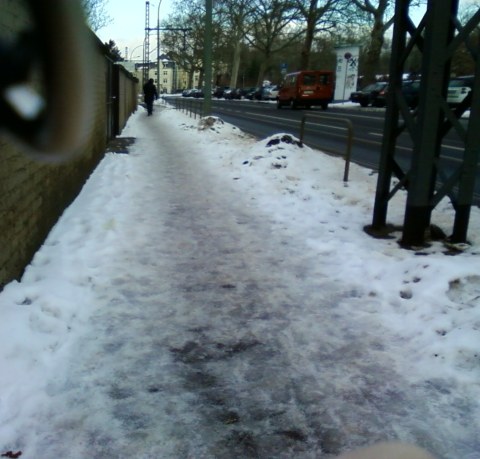 Here no snow was shovelled for about 14 days. No snow, everything ice.
The inner desire comes up to chain the responsible person naked to the handrail on the right until the ice has melted!
On the other side of the street there is currently a well-prepared cross country ski run on the horse racetrack.
Translator BL
Hier geht's,…ääh..fährt man zur

Tags: Doctor, Technical Aids, Ramp, Snow, Testtrac