On carnival Monday I was at a costume party with live music. Wisely the wheelchair table was at the end of the hall.
Great idea when almost all other people are standing in front of the stage.
You are easily overlooked in the crowd so that the beer or cider shower seems inevitable.
Some weeks ago I have bought a battery-operated
neon yellow-green fluorescent bar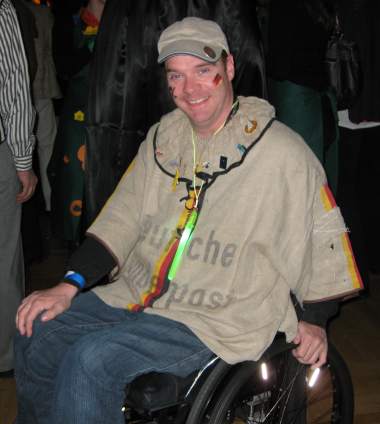 in a do-it-yourself store which can also be set to "blinking".
So you are glowing in the dark

With this thing you are seen very well in the crowd, found again by friends, and nobody dares to stand directly in front of you.
I have been around 15 meters away from the stage and have actually seen the singer every now and then. The beer shower was cancelled.
After the party, my friend has guided the taxi driver with the fluorescent bar as if he was on an airfield.
Click on tag "reflectors" to read other illuminating tips.

Translator BL
Tags: Technical Aids, Concerts, Head Light, Glowsticks, Reflector, Tips and Tricks