I have already often reported about my handicap parking safaris (see older blogpost).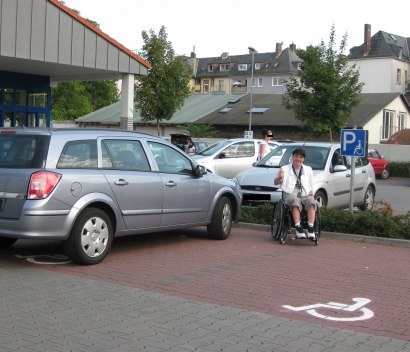 The discounter with the big "L" on whose parking lot the most beautiful stories have happened, has relocated the disabled parking place sign on my proposal.
Especially worth mentioning is the reanimation of the wheelchair symbol on the ground.
The labelling is top!!!
A little e-mail with pictures to the head office, a very kind callback on the phone, and it was taken care about the issue.
I know, penned by me it sounds a little paradox, but don't just always complain, raise the issues at the appropriate positions, often it is quite simple to change something.
However I have to mention that I kindly announced to an approximately 30 year old driver of a car with a star that he would be standing on a disabled parking place when I came out of the supermarket. He apologized several times, he hadn't seen it. This partial blindness seems to be wildly spread. I believe in the Easter bunny and Santa Claus, and now him as well…
Translator BL
Tags: Handicap Parking, Frankfurt, Sign