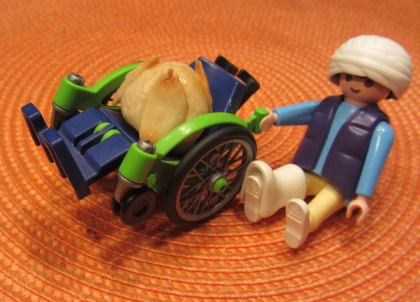 Recipe for traditional Frankfurt "Bethmännchen"!!!
250 g marzipan paste
65 g blanched and grated almonds
80 g icing sugar
1 egg white
Egg yolk for coating
Blanched almond halves
Preparation:
Knead marzipan paste with grated almonds, icing sugar and egg white and put in a cool place, if possible over night. Form little balls with the hands and press 3 almond halves in each ball. Then coat with egg yolk mixed with a spoon of water.
Bake at 150°C for 15-20 minutes..
Interactions with other Christmas cookies are not known.
The risk of permanent addictive behavior should be discussed with the attending physician before fabrication and consumption

(Still with orthosis, it begins to be a pain in the neck!)
Translator BL